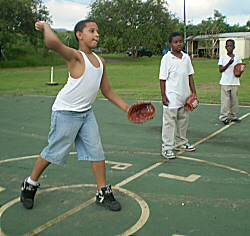 Police Athletic League (PAL) director and retired V.I. Police officer Renholdt "Rookie" Jackson is no longer fighting crime but trying to prevent it, invoking the old saying that an idle mind is the devil's playground.
In the PAL program, he encourages kids use their heads and learn positive traits.
"The best way to fight crime is to take a mind with nothing to do and give it something positive to do," Jackson said.
Jackson said Police Commissioner Novell Francis is 100 percent behind the program.
The PAL program that meets Monday through Friday from 3 to 6 p.m. is for students in the third though eighth grades. Jackson meets with every child's family and finds out where they live and where they come from, helping him to know how to work with them. At this time he has about 15 students that participate regularly.
The center is at the end of a dirt road through bush in a residential area in Estate Whim. On first impression, the center looks a little dilapidated. Jackson said fortunately PAL recently received a grant from the Department of Housing Parks and Recreation for renovations.
But the grounds and baseball diamond look nearly perfect. They are kept neat and mowed by Jackson and a couple of boys in PAL. The boys also help Jackson keep the open air center clean and presentable.
Jackson said they have met at other places that just weren't suitable. The park-like setting does have a basketball court and baseball field making it suitable for the basic baseball skills Jackson teaches, giving them a step up toward little league ball.
He also gives beginners' lessons in guitar, clarinet, drums, and piano teaching quelbe, reggae and easy listening tunes.
"I loved learning how to play the clarinet," said 14 -year-old Kenisha Belle. "I like to come and play music with the friends I have met here."
The participants also learn a kind of woodworking called scrolling as well as small engine repair.
"I have heard from young men who have good jobs in automotive repair that got early training here," Jackson said. Parents have told him their children are doing well since being in PAL.
Jackson said Chief of Police Oakland Benta refers children who may have been in trouble with the law to the program.
"There are some rough boys out there seeking direction," Jackson said. "People can help by donating their time and resources." He added there is a need for male role models.
There is also a facility at Burning Bush in Watergut. Jackson said the program under the V.I. crime prevention office has a PAL summer day camp that attracts almost 90 kids. For those interested in signing ups students, call the crime prevention office at 773-6393.