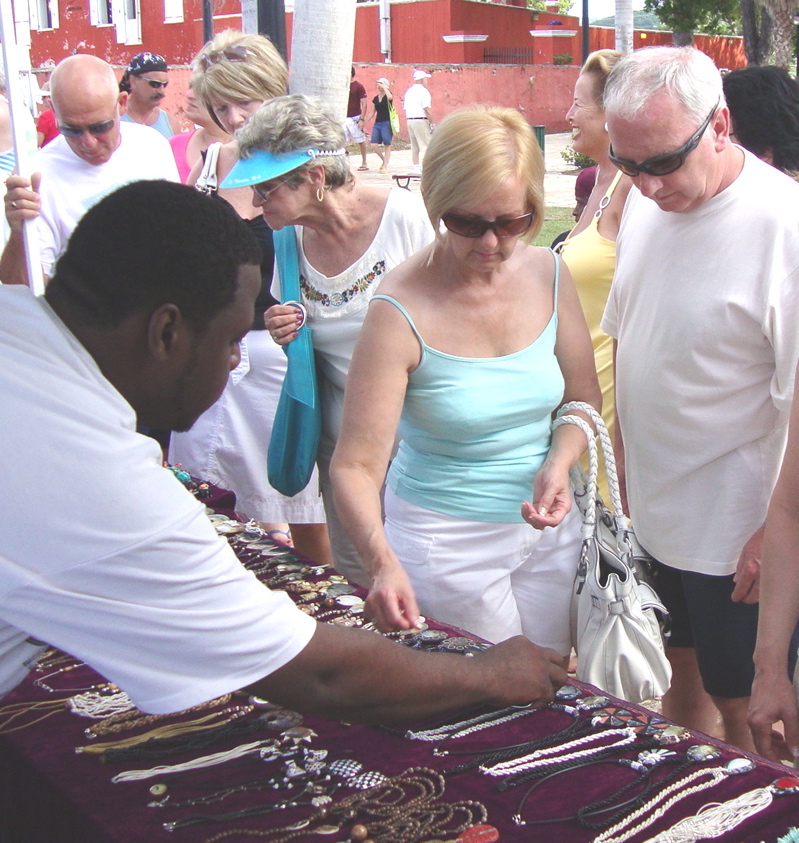 The population of St. Croix jumped about 12 percent Saturday morning when two cruise ships carrying more than 6,000 passengers docked at Frederiksted.
By nightfall, things had returned to normal as Adventure of the Seas, and Mercury, loaded up and steamed away, taking their passengers on to other Caribbean ports. The visitors left with souvenirs, photos and memories of a sunny day in a tropical paradise. They left behind, among other things, an influx of tourism dollars to bolster the local economy.
It was the first time in recent memory that two ships had docked on the big island on the same day. Since last November when cruise ships returned to St. Croix after an absence of three years, the number of ships making calls in Frederiksted has steadily risen. And local merchants have noticed the difference.
"There's definitely more people walking up and down the street," said Roger Nickell, a vendor whose booth displayed dozens of handcrafted wooden bowls and vases.
Nickell said the global economic slowdown has had an effect, and is happy to see any sign that it's turning around. He noted that after Saturday's rush, there were ships scheduled to dock Monday, Tuesday and the following Saturday.
At Polly's at the Pier, a Strand coffee shop and restaurant, co-owner Seth Wilcoxon took a break from a long line of customers and said, "It's going great."
"The population of Frederiksted, like, quadrupled," he added.
On the street, long lines of tourists poured off the ships to the sound of music from Buddhoe Park and the crowd of vendors, tour guides and cabs. Some lined up for drives to Christiansted, while others strolled the market and headed for beaches.
Michael and Maureen Knight, of Birmingham, England, had been off the ship only 20 minutes, but said the island looked nice. Aboard ship, another traveler had told them there wasn't much to see on St. Croix, but they were pleasantly surprised with all they'd found in just the first few minutes.
"It's very nice," Maureen Knight said.