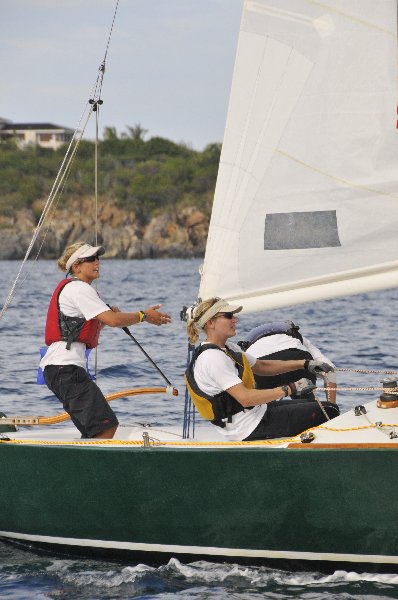 ST. THOMAS — There were challenging conditions for the eight elite teams competing on the first day of racing in US SAILING's 2009 U.S. Women's Match Racing Championship (USWMRC), hosted by the St. Thomas Yacht Club and sailed in Cowpet Bay.
Sailors dealt with dead calm conditions to gusty squalls and numerous wind shifts throughout the day. In spite of nearly three hours of delay due to weather, seven races (one round robin) were completed on Thursday.
US Sailing Team AlphaGraphics (USSTAG) member, Anna Tunnicliffe (Plantation, Fla.), the 2008 Olympic Gold Medalist in the Laser Radial, took a decisive step towards defending her title by winning all of seven matches. Tunnicliffe is joined by teammates Molly O'Bryan Vandemoer (Redwood City, Calif.), Liz Bower (Rochester, N.Y.), and Alice Manard (Charleston, S.C.). Manard and Vandemoer are both members of USSTAG. Tunnicliffe admitted feeling the effects of jet lag having flown to the Caribbean after receiving the female ISAF Rolex World Sailor of the Year award in Busan, Korea. However it didn't seem to slow her down on the scoreboard.
USSTAG member Genny Tulloch (San Francisco, Calif.) is hot on Tunnicliffe's heel in second place by going 5-2. She lost one to Tunnicliffe and one to Annie Gardner-Nelson (San Diego, Calif.). Tied for third are Gardner-Nelson and Evan Brown (New York, N.Y.), who both went 4-3. Also, USSTAG sailor Katie Pilley-Lovell (New Orleans, La.) and Jennifer Wilson (Chicago, IL) are tied for fifth.
The overriding theme of the day was the weather. The race committee worked continually to adjust the course to the ever-changing wind shifts. Though it took a little while to settle in, the stellar Caribbean sailing conditions prevailed with sunny skies and 14 to 18 knot winds. The four-day championship resumes Friday morning.
The 2009 U.S. Women's Match Racing Championship for the Allegra Knapp Mertz Trophy, is sponsored locally by St. Thomas Radiology Associates, which is also sponsoring the 4th Annual St. Thomas Radiology Women's Regatta & Tennis Tournament which takes place at the same time, and by Rolex Watch U.S.A., Dry Creek Vineyard, Predict Wind and Sail Proud. This event is part of US SAILING's National Championship series.
For complete results, daily recaps, and photos please visit the event website at http://championships.ussailing.org/Adult/USWMRC.htm.
For more on the US SAILING National Championships, please visit http://championships.ussailing.org/.