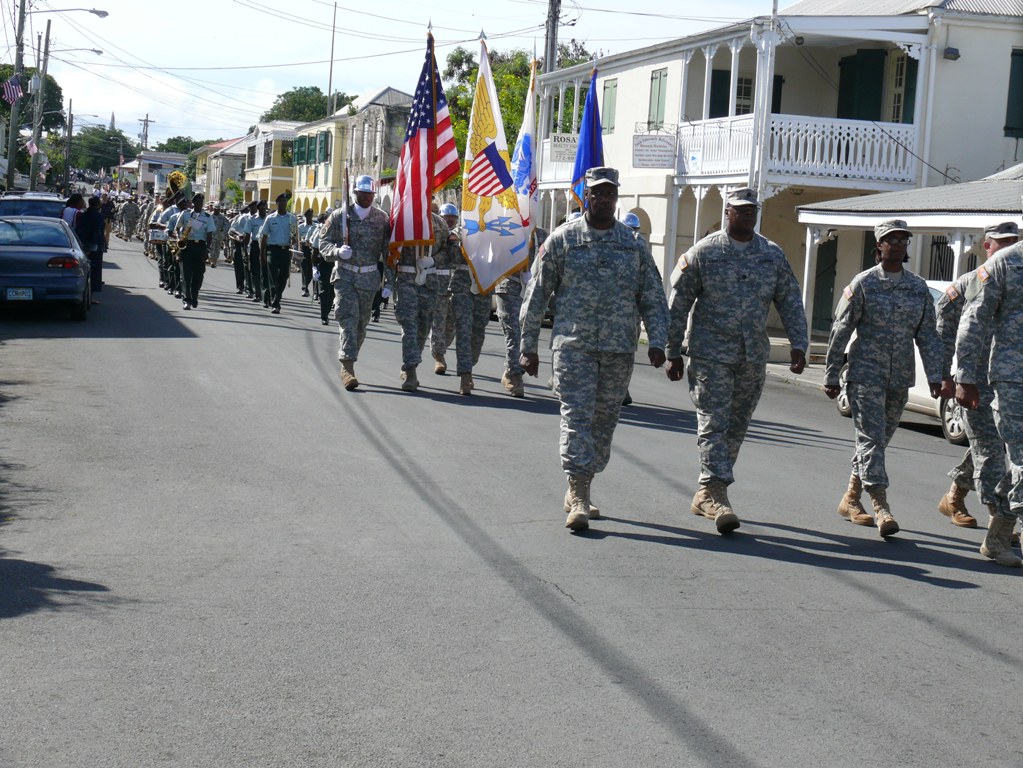 Flags waved and the big bass drums of St. Croix Educational Complex Band beat the air Wednesday as American Legionnaires, women in the Legion Auxiliaries, Army and V.I. National Guard soldiers, marching bands, majorettes and many more marched through the streets of Frederiksted for a big Veterans Day parade.
By 8:30 a.m. all the telephone poles on Strand Street had two little American flags on wooden poles—the kind you see waving at rallies and Memorial Day and the Fourth of July. Legionnaires in their white shirts and field caps were beginning to gather and prepare, while Boy and Girl Scouts were exiting cars, straightening sashes and unfurling banners.
Along the route, people began to stake out good spots in the shaded walkways of the town's old buildings, some setting up folding chairs or holding parasols to shade from the sun, which was beginning to blaze fiercely. The Fraco drink man did a brisk business.
At 9:30 on the nose, the bands struck up the tune, and two police officers on motorbikes briefly blew their sirens, clearing the route. The parade began, working its way from the south end of Strand Street, slowly past the crowd of families and friends.
First in line was a big National Guard Humvee, painted in camouflage and carrying Parade Grand Marshal Raphael Munchez. With fluffy white hair, beard and mustache, nearly matching his crisp white Legionnaire shirt, Munchez waved and beamed beneath his medal-and-patch-covered field cap.
Munchez was on Okinawa doing engineering work on runway extensions when the Korean conflict broke out in 1951. Home safe since then, he has served and led countless community organizations, from being a Boy Scout leader to Rotary to Knights of Columbus.
Just a few weeks shy of his 80th birthday, even now Munchez volunteers 20 hours a week at the Veterans Administration Community Base Outpatient Clinic on St. Croix and is active with St. Croix's Caribbean Community Theater.
"We heard about the conflict breaking out—a 'police action' they said," Munchez recounted later over a big plate of stew chicken and Crucian stuffing over at St. Gerard's Hall once the ceremonies were over.
"Most of us had barely heard of Korea at the time—and there was no cable TV or cell phones back then, so we were scrambling to find out what was happening. We got a map and saw it was right next to us."
Thankfully, he got home safe and in 1967 moved to St. Croix, where his grandparents were from. He's been here ever since.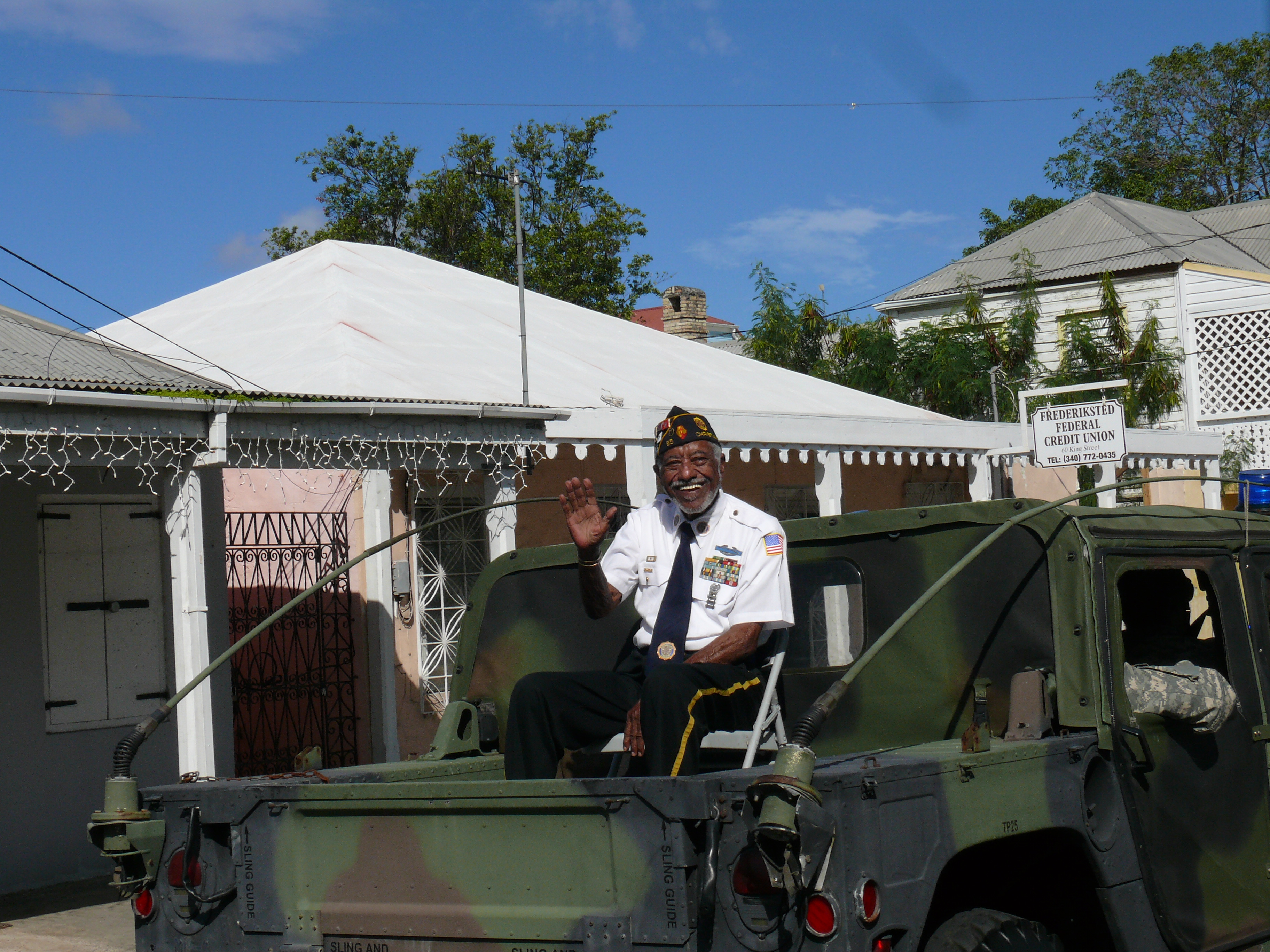 "I'm grateful to be reaching my 80th birthday on the 23rd and now to be selected grand marshal for the parade; what can I say, my cup runneth over," he said.
As different groups of military veterans—Legionnaires or Guardsmen—passed by, people spontaneously burst into applause, visibly showing their appreciation to those who serve and have served.
The Educational Complex's Marching Barracudas performed flag-waving and stepping routines to the beat of the band.
Perhaps half an hour after the parade began, the first wave rounded the corner by UCA's and Buddhoe Park, where the bandstand, festooned in red white and blue, awaited the day's ceremonies.
A breeze picked up, cooling the families milling in the sun-dappled shade of Buddhoe Park, faces turned to the bandstand to hear decorated veterans, active soldiers and high government officials say appropriate words of thanks and commemoration.
Listening to the Crucian Brass Ensemble playing the "Star Spangled Banner" and "V.I. March," watching the crowd reciting the Pledge of Allegiance and listening to dignitaries speak from the bandstand, all of this combined to create a feeling of timelessness to the ceremony. As if it could just as easily be years ago, perhaps 1939, the date etched into the bandstand's concrete stairs.
Rear Adm. Denise Canton gave the keynote address. A native of St. Croix, Canton began her career as a civilian nurse with the U.S. Public Health Service, later moving to active service. Among her educational achievements, Canton holds a doctorate in Nursing Science from Catholic University of America and a law degree from Georgetown University. She is currently director of Commissioned Corps Force Management for the Navy.
"There is no place I would rather be on this momentous occasion than here on St. Croix where I was born," Canton said. "It is both a day of celebration and a time for solemn reflection …. We can be proud there are over 9,000 men and women in this community who have served in our nation's armed forces."
Quoting from President Barack Obama's Veterans Day proclamation, she said "caring for our veterans is more than a way of thanking them for their service. It is an obligation to our fellow citizens who have risked their lives to defend our freedom. This selflessness binds our fates with theirs and recognizing those who were willing to give their last full measure of devotion for us is a debt of honor for every American."
The breeze picked up some more, and ominous black clouds started to roll in from the southeast across Frederiksted, prompting a somewhat foreshortened benediction in anticipation of the coming storm. Just after the final words of prayer were cited, media, dignitaries, bands and spectators quickly and efficiently packed up, as large drops began to spot the pavement.
Just after the park cleared, with a crack of lightning and thunder, the clouds burst open, flooding the streets and cooling the air. Fifteen minutes later, the rain stopped, hampering not at all a big buffet for veterans around the corner at the aforementioned St. Gerard's Hall. Munchez was first in line.