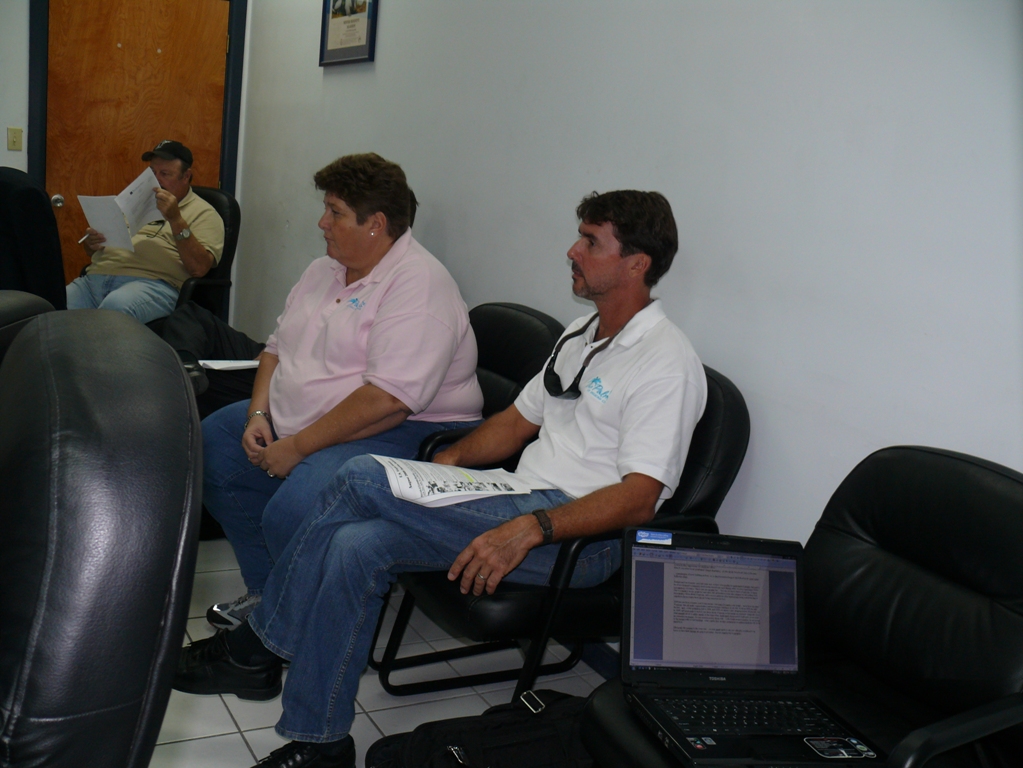 Trying to ride out the recession smoothly, the Palms at Pelican Cove Hotel is slowing, but not halting, plans to renovate and expand from 38 to 104 rooms.
On Tuesday owner Chuck Fischer—flanked by his facilities manager Tom Ainger, general manager Julie Printy and consultant David Bornn—went before the Coastal Zone Management Committee on St. Croix and asked for a one-year extension to his CZM permit.
While added hotel capacity on the island has been a longtime objective for both hoteliers and tourism officials, it's proving to be difficult to achieve with the ongoing U.S. economic slump.
With both occupancy rates and revenues down, Fischer and his wife, Joyce, have taken a more prudent route. Instead of expending capital on new rooms that won't be filled, they're renovating and improving the hotel's existing capacity and laying the groundwork for a later expansion.
Although hotel occupancy in the territory is down by 12.7 percent, revenues are down 25 percent as hotels compete for the remaining business, Fischer said. When he and his wife bought the place in 2007 and made plans for expansion, no one foresaw the major worldwide recession.
Despite the lean times, work is progressing. Rather than ramp up work and hire more contractors now, Fischer and Ainger plan to keep the work crew they already have engaged and move a bit more slowly.
For now they are replacing plumbing in the walls, preparing the lower floors for the pipes needed for eventual solar hot water and geothermal air conditioning that will be put into place when the expansion occurs. Meanwhile, they have spent close to $1 million on improving all the existing amenities and facilities. The long list includes replacing and repairing damaged concrete floors, replacing sliding doors, renovating and expanding restrooms, and remodeling the hotel rooms.
"Once we're done with one project, it's on to the next," Fischer said. "It is our intention to get the quality of the rooms updated to reach boutique hotel status, and as you can see in our photos, we are well on the way there."
CZM committee member Neil Simon asked if there was a chance the work would be delayed beyond a year and require another extension. Fischer said he was confident the expansion would be well under way by September 2010. CZM legal counsel Dalila Patton said so long as work had begun on the expansion by that time, no new permit extension would be needed.
The committee voted 3-0 in favor of extending the Palms at Pelican Cove CZM permit until Sept. 19, 2010—one year from the permit's original expiration date. Because the extension was requested prior to its expiration date, the permit remains in effect, and will continue without interruption, Patton said.
Committee members present were Simon, Robert Merwin and Masserae Sprauve-Webster.