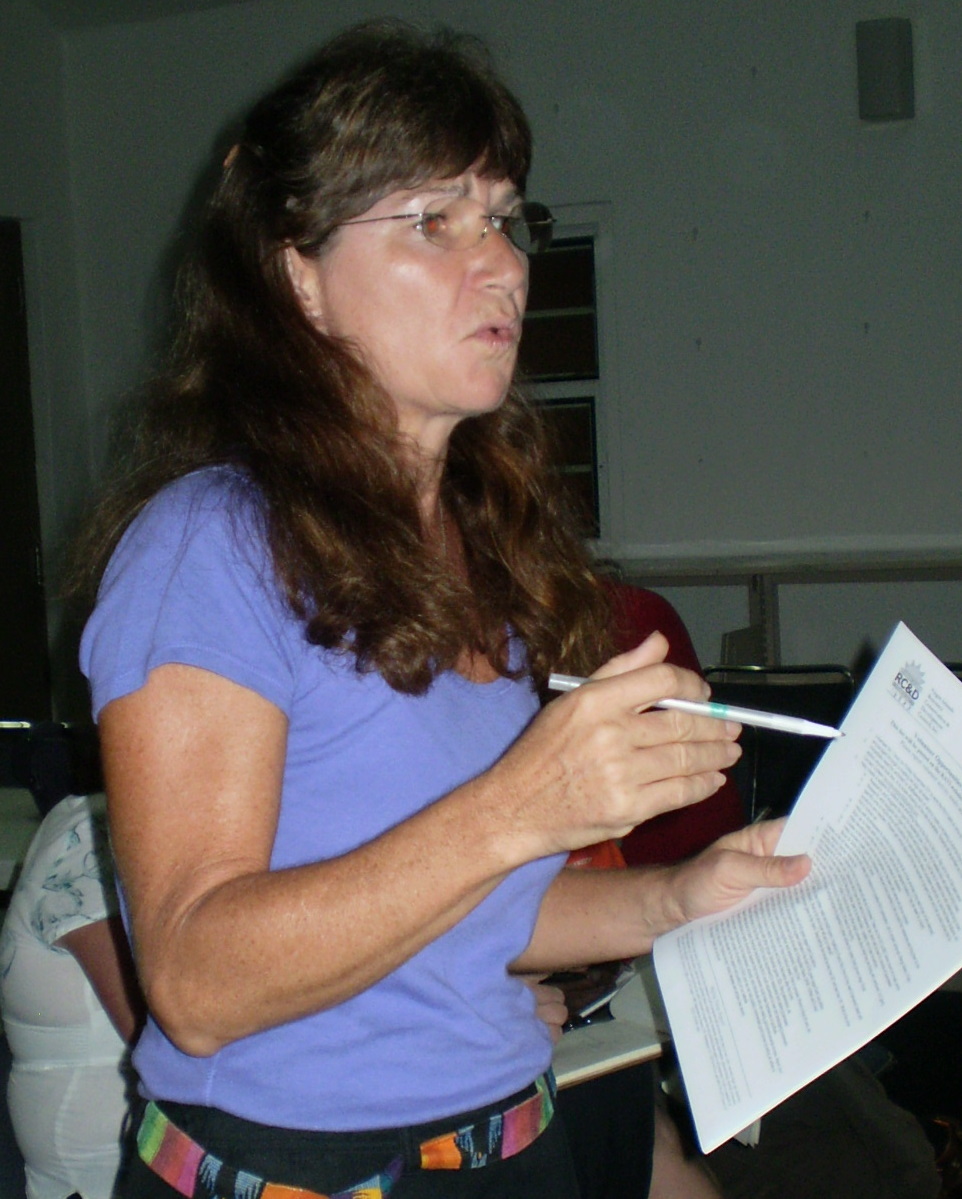 The Recycling Association of the Virgin Islands (RAVI) wants you to join them in practicing their three Rs – reuse, recycle and reduce waste. "This organization can really grow and get a lot more things done as a volunteer group with more members," said Colleen Sullivan, newly elected president of the leadership team.
At RAVI's regular monthly meeting this Tuesday at the Florence Williams Library in Christiansted, organizational goals were set for 2010. High on the list is increasing membership and volunteerism.
Sullivan said they have a mailing list of more than 200, but only around 25 paid members.
She said there have been a lot of accomplishments, and there has been a lot of momentum generated. Accomplishments include furnishing the bins at Cost-U-Less for cardboard recycling, setting up information tables at events, and partnering with the Boys and Girls Club to get aluminum recycling up and running again in Anna's Hope.
"Next year we want to continue the momentum and take it to the next level," Sullivan said. "Membership allows us to potentially buy recycle bins and small can crushers to give out."
Sullivan said the Boys and Girls Club has received funding through a V.I. Waste Management Authority (WMA) funding grant. The aluminum-recycling site should be open no later than February 2010. The site needs to be cleaned up, and the club is waiting on equipment to crush and bale aluminum. The public is asked to hold onto cans until a notice goes out about the beginning of phase one. The second phase will be recycling of plastic, and or glass.
WMA Spokesperson Charmin Springer spoke about the progress at the Peter's Rest transfer station, saying it is expected to open in December. In February the public will be able to drop off cans there that will then be recycled at the Boys and Girls Club site.
A volunteer opportunities list was given out during the meeting and is also on the RAVI website, www.usvircd.org/RAVI/STXRAVI.htm.
"RAVI could be the group that brings everyone together in a positive collaboration to facilitate a green asset – all working together to make this happen," Sullivan said. She said the partnerships could be with local businesses, churches, schools, WMA, St. Croix Environmental Association, government agencies, and other groups.
The next meeting will be Dec. 8 at 6 p.m. at the Florence Williams Public Library in Christiansted.
RAVI's mission is to establish a thriving community of recyclers dedicated to conserving resources through the implementation of comprehensive programs that result in waste reduction, reuse and recycling.