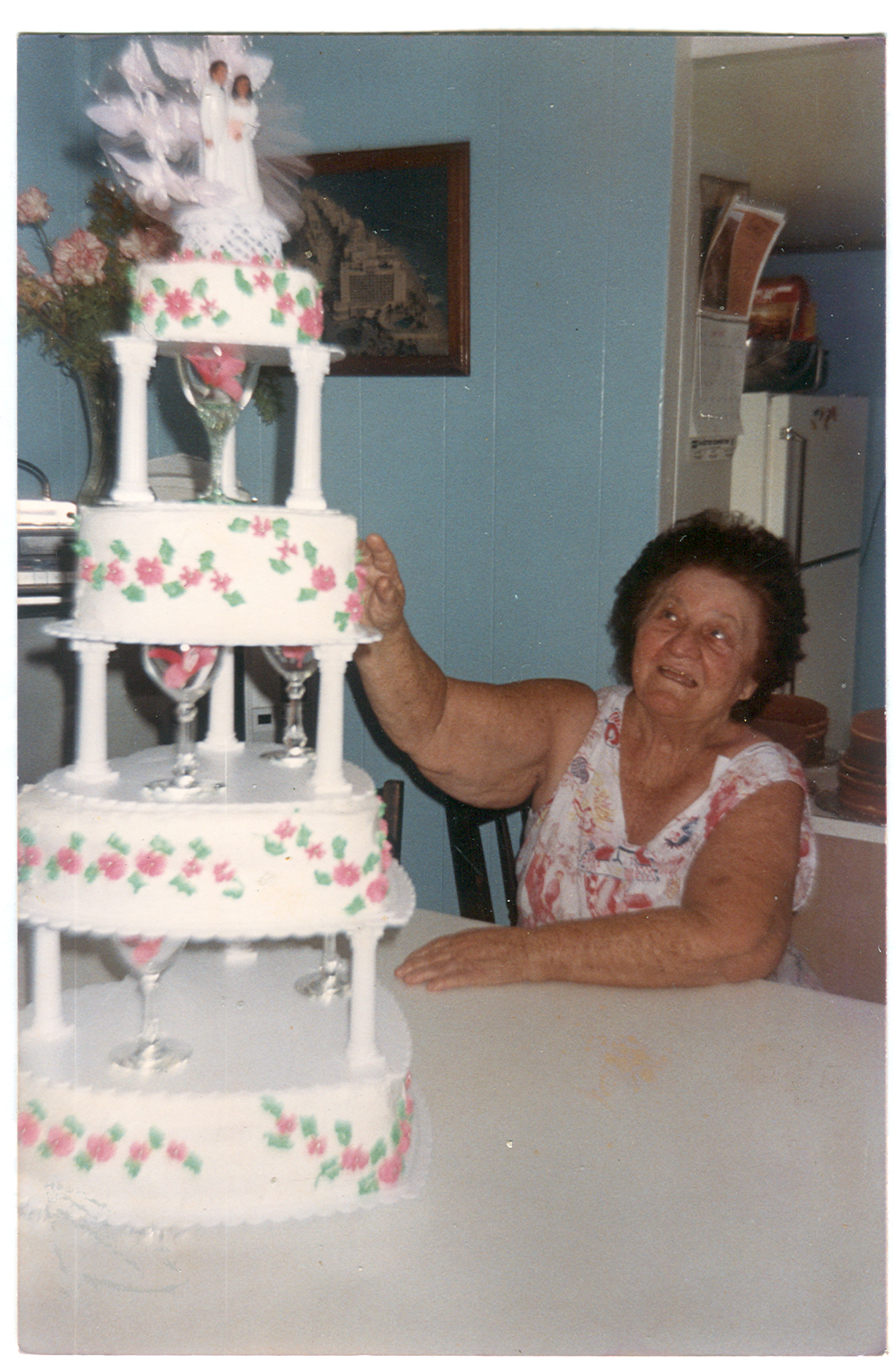 Once again, thankfully, you can't pass that corner in Frenchtown without pausing to take in the familiar aromas of fresh baking. The sweet scents waft their way through the shutters of Juliana's Bake Shop, beckoning one inside to the tiny French cottage.
Owner Linda Greaux looks up from frosting a Vienna cake, positively beaming. "It's all about mama," she says.
"Mama," also known as Juliana Greaux or "The Cake Lady," was as much a part of the French village as the bells of St. Anne's Chapel. Although she passed away two and a half years ago, her spirit dominates the new shop, which is right next door to where mama offered cakes, warmth, and friendship for years. She was an institution.
Linda Greaux loves to talk about "mama," about baking and about family. Wiping her hands on her apron and pushing back her hairnet, she's happy to chat.
"Don't rush the cake," says Greaux. That's just one of the many secrets her mother taught her.
Bending over an impressive new six-quart Kitchen Aid mixer, Greaux is busy, but she has mama's secret down pat. Never appearing rushed, she naturally makes folks feel comfortable with a ready smile and her welcoming manner.
"The baking takes the least time," she says of the process. "What takes time," she says, "is cooling the cakes, cutting them, jamming them, putting on the frosting."
The new bake shop is a shrine to Linda's mentor. Pictures of family adorn the walls, assembled in a collage created by Juliana's granddaughter, Giselle Richardson Jones.
The pictures show Juliana enjoying what she loved to do: bake cakes for friends and family. If you'd bought one of Juliana's cakes, you were a friend—whether from Frenchtown, the North Side, East End, Bordeaux, Texas or Tulsa, Okla.
Juliana Greaux married the love of her life, Louis Greaux, in 1950, after a courtship that began "over a bag of peanuts under the mango tree," according to Jones. Jones and her one-month old daughter, Isabella, are spending the afternoon with Linda Greaux, Jones's mom.
Jones says her grandmother "did washing 12 hours a day, until her feet began giving out." Jones continues, "With eight children, money was tight. Her aunt gave her a cake recipe and told her to perfect it. She told her she could make a living without being on her feet all day."
That advice was all the encouragement Juliana needed. She experimented with the recipe, testing, tasting, sampling, until it was almost perfect. Then she added one essential ingredient: love.
Over the years, she taught her five daughters (Linda, Clementine, Marilyn, Joan and Judith), granddaughters and daughters-in-law all how to bake the cakes.
"Mama tweaked that recipe, and she created more recipes. She made cakes until she couldn't lift her arms to jam them," Jones says.
"She taught us how to bake the cakes with love," Greaux says. "And don't rush," she adds, echoing her mother's words.
All the daughters helped bake the cakes over the years. "After mama's knees gave out, Joan and Clemie would bake the cakes," Greaux says, "while mama took orders and directed the cake business from her bed."
Greaux was chosen to carry on the tradition. "I was always working," she says, "but when I retired, I came over every Saturday for lessons. When mama was in Tulsa for her last knee operation, she called me. 'I want you to take over the cake business,' she said. 'Do you think you can handle it?'"
The little red bell rings from the outside gate, and an anxious looking young man appears in the doorway. He asks: "Can you make a birthday cake for my wife for Monday?"
It's Friday.
Greaux looks up from her labors. With a smile and a nod, she asks, "What color frosting?"
"Purple," the young man answers.
She doesn't blink an eye. "Purple, OK. Monday."
The wooden building, painted lemon yellow with green shutters, has been reconstructed in the vernacular French style. Building owner Denise Humphrey says she is happy to be part of the Cake Lady's tradition.
"It's right in front of my grandparents' property, where I live now," Humphrey says. "We grew up together."
The bakeshop remains very much a family business. As Greaux's son, Cyril, installs a ceiling fan, daughter Julie is carving an enormous pumpkin, while Jones adds a photo to the collage of her five-tier wedding cake that her mom created. It is a thing of beauty.
Along with Vienna cakes, the bakeshop's offerings include wedding cakes, tarts, black cakes and sweetbreads.
The bell rings again. "I want some of those scary cupcakes," a young woman says. Greaux reaches a box filled with all sorts of Halloween creatures. "I hope these are scary enough." The woman smiles her answer.
The bakery has a national, and even international clientele. Greaux is artfully putting the last touches on a Vienna cake. "This is going to Texas," she says. "I wrap the box in bubble wrap, and secure the outer box. It'll be there in two days, priority. Mama even sent a cake to Paris, and we have one on the way to Hawaii now."
With that task completed, Greaux sits down, taking off her shoes. "Oh, that feels good," she says, with a grateful smile.

"I love doing this," she says, "but it's a challenge to live up to."
It's a challenge Greaux obviously embraces. With love.
To place an order with Juliana's Bake Shop, call 776-3564.