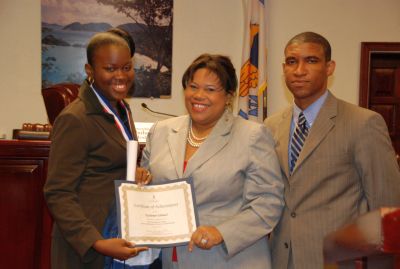 Students from across the territory gathered on St. Thomas over the weekend for this year's Inter-School Junior Tourism Commissioner Competition, which is geared toward teaching young people about the role tourism plays in regional economic development and pushing them to pursue careers within the industry.
The competition was held at the Earle B. Ottley Legislative Hall, where students made formal presentations before a panel of judges on tourism-related topics.
This year's winner was Charlotte Amalie High School senior Krythemer Edmead, who competed for the title of Junior Tourism Commissioner alongside Kimberly Brin from All Saints Cathedral School, Nyasia Santiago from Good Hope School on St. Croix, Emma Smith from St. Croix Country Day School, Louis Robles of Ivanna Eudora Kean High School, Connor Mashburn from AZ Academy and Ivanna Mills from St. Croix Central High School.
Edmead will represent the territory at various Tourism Department events throughout the year.
The annual competition—which was initially developed by the Caribbean Tourism Organization (CTO) to introduce students throughout the region to the "fundamental role" tourism plays in the economic development of their countries—seeks to inspire leadership among young people, according to a recent Tourism Department release. While the CTO has temporarily suspended the program that allows the finalists from each Caribbean country to compete for a regional title, the V.I. Tourism Department has maintained the program in the territory because of its popularity within the high schools.
"Since tourism will remain the main economic engine for our islands for the foreseeable future, it's important to provide opportunities where students, our future business and community leaders, can develop a greater understanding and appreciation of the tourism industry," Tourism Commissioner Beverly Nicholson-Doty said in a recent statement.