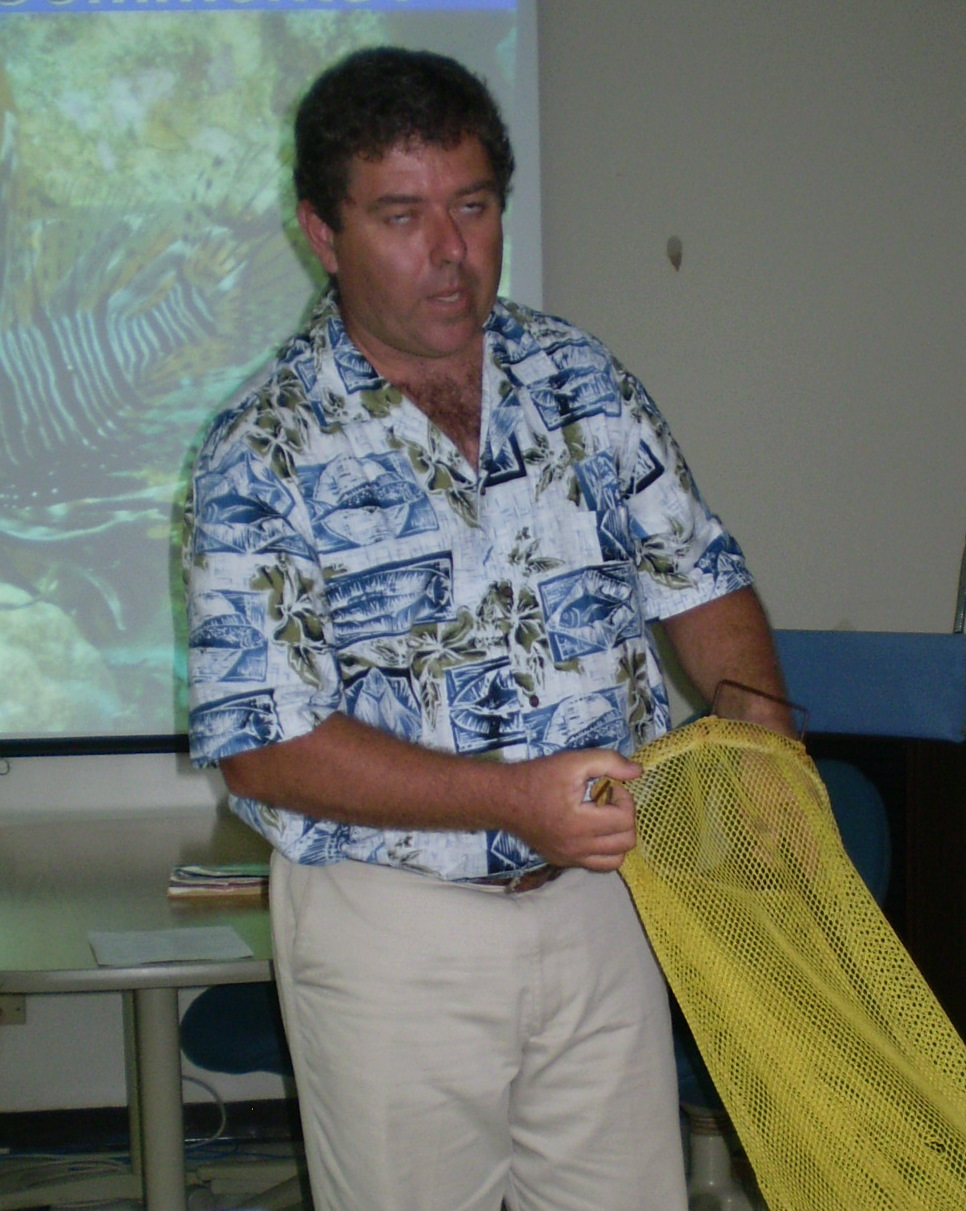 Are lionfish from the Indian and Pacific oceans going to become a popular menu item at V.I. restaurants or will they become the demons that devastate the territory's fisheries? About 30 residents gathered this week at the St. Croix Curriculum Center to ensure neither scenario becomes a reality.
William Coles, who caught the first of nine lionfish in waters around St. Croix a year ago, is hopeful the territory can avoid the fate of the Bahamas, where lionfish now dominate the reefs. He started the evening's program by running down the evils of the lionfish – its voracious appetite, its lack of predators in the Atlantic and its prodigious breeding habits, which include the female's ability to release up to 30,000 eggs at a time—a feat she can perform often.
Coles, who works at the Department of Natural Resources Fish and Wildlife Division, remains optimistic because the first lionfish caught in November last year was two inches and every one caught since has been larger—evidence that the fish have not begun breeding in V.I. waters.
"If we start seeing two-inch juvenile fish, we are in trouble," Coles said. Ranging in size from one to 20 inches, the lionfish scares off predators with long poisonous spikes on its back.
Those spikes are also the fish's Achilles heel, making it complacent around divers, who can capture or spear the fish with relative ease.
The goal of the Wednesday meeting was to get the word out about spearing, capturing or reporting sightings of lionfish. The lionfish is very territorial, generally staying in one area. So if one is sighted and reported, they usually can be located and captured.
Coles showed a neon orange ribbon marker with a cork on one end and a weight on the other. He asked that divers carry a couple of these around with them so if they spot a lionfish, they can just drop the marker, making site relocation that much easier.
Local diver Joe Gulli talked about his efforts working with dive operators to exterminate the lionfish before it gets established in V.I. waters. He said he is organizing and looking for expert divers with good buoyancy abilities so as not to harm coral.
Coles said no one is sure how these lionfish have turned up in the Virgin Islands, but they are not strong swimmers, so they probably did not migrate here. They could have arrived in the ballast of a ship or someone could have dumped them here. They are popular aquarium fish.
"This could be a very, very serious problem," Coles said. "We have to do this as a cohesive working group."
Groups organizing and banding together as the Lionfish Response Committee include the V.I. Experimental Program to Stimulate Competitive Research, DPNR, East End Marine Park, National Park Service, St. Croix Environmental Association, Nature Conservancy, University of the Virgin Islands, dive shops and yacht clubs.
For more information or to report a lionfish, contact the Department of Planning and Natural Resources Division of Fish and Wildlife at 773-1083 or after hours call 643-0800.
For more information about the meeting and dives, email the committee at nolionfishstx@yahoo.com.