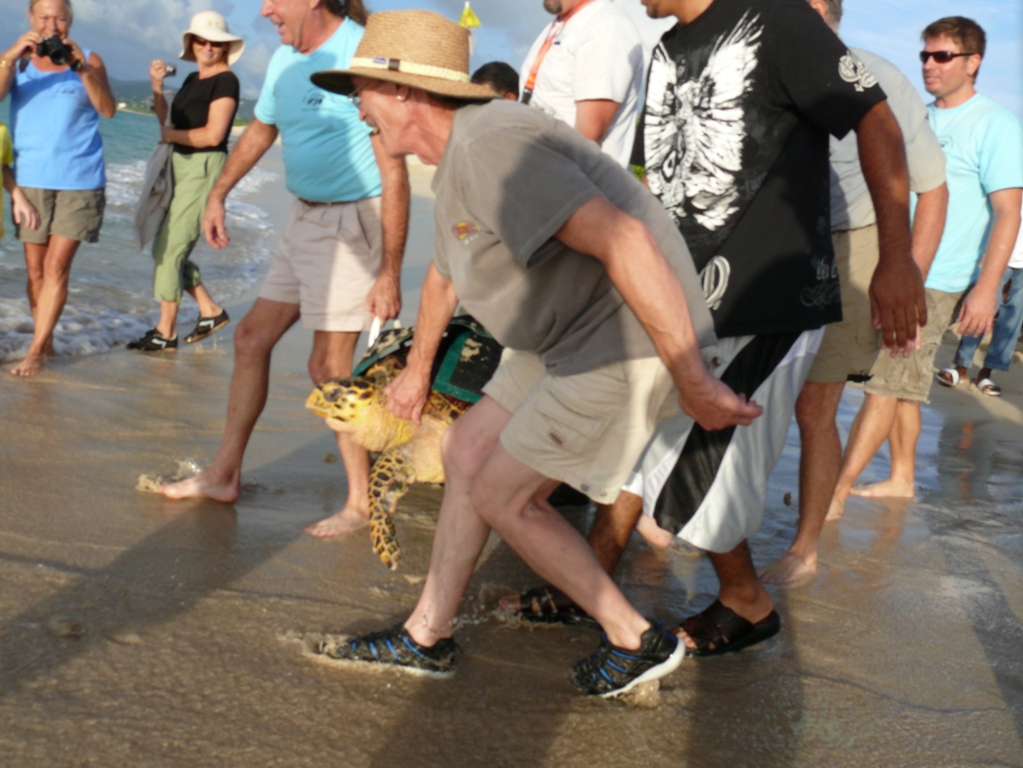 Sandy the Sea Turtle returned to St. Croix a celebrity Tuesday, with three newspaper reporters taking pictures and two TV crews videotaping as she came down off the American Airlines passenger jet that carried her back home.
It's been a rough year for the full-grown, 160-pound Hawksbill mother. Just over one year ago, on Oct. 11, Sandy was found badly mauled at Sandy Point National Wildlife Refuge.
Claudia Lombard, a wildlife biologist with U.S. Fish and Wildlife stationed at Sandy Point, was walking the beach at Sandy Point, doing her regular morning patrol, and found nesting turtle tracks coming out of the water, but none going back in. So, she began looking for the turtle to see if it was lost or in distress.
She found the turtle – later dubbed "Sandy" — farther in from the beach, battered and bloody from attacks by feral dogs. For a month or so, Fish and Wildlife staff treated the turtle themselves, with help from veterinarians at the St. Croix Animal Welfare Center. However, after Sandy's condition worsened, they contacted The Turtle Hospital, a non-profit institution on Marathon Key dedicated to rehabilitating injured sea turtles and returning them to the wild.
American Airlines generously flew the injured turtle to Florida for free, and Tuesday they flew her back again at no charge.
At the Turtle Hospital, veterinarians had their work cut out for them. Initially, Sandy was unwilling or unable to eat, and staff fed her squid with a tube into her stomach.
And then there was the physical damage. Turtle Hospital veterinarian Doug Mader had to amputate Sandy's right front flipper to prevent blood poisoning because too much bone was exposed.
"She was on antibiotics for three months, tube fed for four or five months," said Turtle Hospital Administrator Ryan Butts, one of several folks from the hospital who flew back to see Sandy off. "But she turned around just fine, and she'll be able to swim perfectly well, despite the flipper," he said to the gaggle of reporters and onlookers on the tarmac of Henry E. Rohlsen Airport.
Hospital Director Richie Moretti agreed, saying Sandy was so healthy after the first few months, she aggressively drove the other turtles out of the pond she was staying in.
"Over the years, we've seen many tagged turtles show up who are missing a flipper and they do fine," Moretti said. "Just today, she beat me up pretty good," Moretti said, showing scrapes and bruises on his forearms from getting Sandy into her padded traveling box.
Two American Airlines flight attendants in blue jackets cooed at Sandy, one inquiring about the turtle's age. Moretti replied that Sandy was "probably 30 or 40," adding, "It's hard to say for certain, but she is fully grown" Living up to 100 years, Hawksbills are omnivores, eating sea sponges, crabs or whatever they can find, he said.
This trip is the farthest they've travelled to return a sea turtle, he said. But it is the second St. Croix sea turtle treated at the hospital after being mauled by feral dogs. A couple of years ago, a 400-pound green turtle was badly mauled, losing an eye and suffering a lot of damage, he said. That one was too badly injured to return to the wild, but lives in a pond at Theater of the Sea, a marine park in Islamorada, Fla.
After the celebrity treatment on the runway, Moretti and Butts put the lid back on Sandy's crate and slid her into the back of a U.S. Fish and Wildlife pickup truck. As if some major visiting dignitary had arrived, a motorcade of a dozen vehicles followed the turtle out to the beach at Sandy Point, slowly, slowly maneuvering along the refuge's bumpy, puddle-strewn road.
Once at the beach, several more vehicles arrived. Ann-Marie Gibbs, a teacher at St. Croix Educational Complex, arrived with several dozen high school students to see the turtle off.
"The kids have an avid interest in the turtles," Gibbs said. "For some of the kids this was the first time they've seen a sea turtle up close. And it's good for the kids to learn as much as possible about the environment and life on the island."
The students seemed excited to be there. "We heard about this Monday from Mrs. Gibbs and came out as part of studying biology," said 10th-grader Shevonne Rios. "This was really cool," added fellow 10th-grader Dominique Joseph.
Sliding two two-by-fours through slots in the bottom of Sandy's crate, four men carried Sandy down by the water's edge, then wiped the turtle off with a towel. Sandy was coated in Vaseline to help keep her moist while travelling. Using a special sling litter, Lombard, Butts, Moretti and others carried Sandy the last few feet to the water while the students, teachers, onlookers and assembled media watched and took pictures. On hitting the surf, Sandy didn't pause for a second, didn't look back or wave a fin goodbye to her fans. She slid right under the surface and promptly swam off— hugging the bottom until, just a few seconds later, she was out of sight.
"That's good, she took right back to her natural behavior," Moretti said, as he watched Sandy disappear from sight.