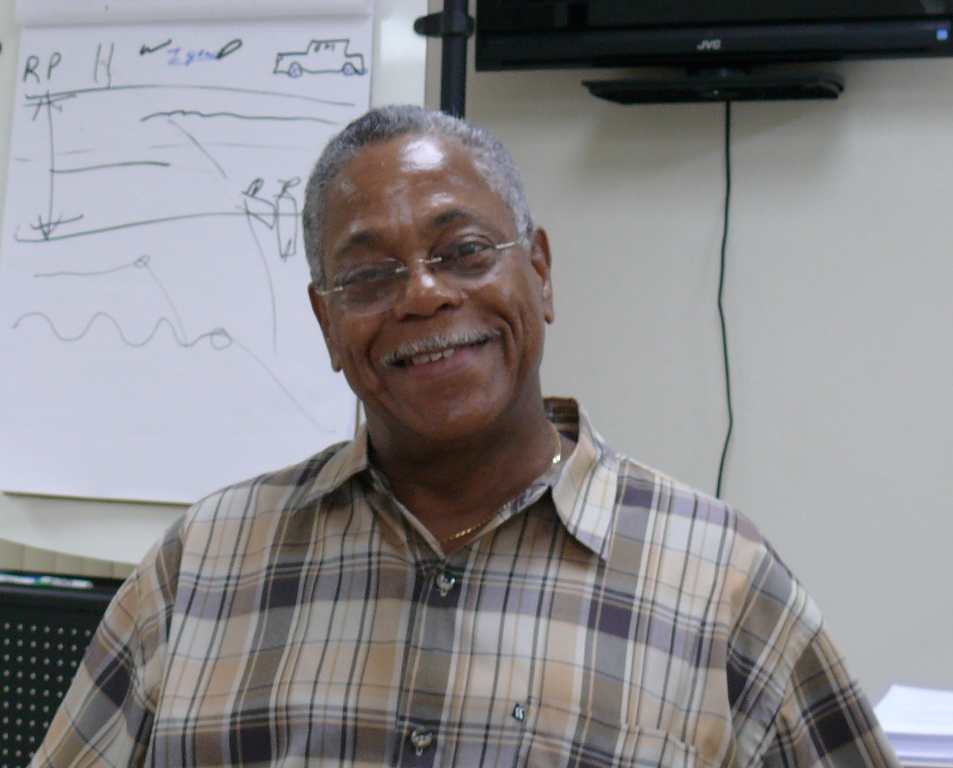 Ronald Hatcher, the V.I. Police Department's new director of Crime Prevention is working to revamp and revitalize the department's youth programs, and he wants your help.
"We would like to get the crime prevention and cadet programs off the ground and running, and bring them up to where they should be," Hatcher said Monday, adding, "To do that, we need resources."
Among the programs Hatcher oversees are the Police Athletic League (PAL), which provides summer camps and after-school programs for students; and a newly revamped Police Cadet program, where students with good grades and records receive after-school training, a stipend and free tuition to pursue criminal justice studies at the University of the Virgin Islands if they join the police force afterwards.
Over 200 children on all three islands participated in the department's summer camps in 2009. Hatcher said this year the Police Athletic League is reviving its after-school programs after something of a hiatus. "It's a haven for kids after school, with tutors, educational activities and a free snack. It's a safe place to bring your child," he said.
Just in Estate Whim on St. Croix, PAL has three bands that practice after school along with classes in woodworking, upholstery and small engine repair, where students work to repair motorbikes, he said.
Police officers, like PAL Director Renholdt "Rookie" Jackson, spend time with the kids, providing productive male role models along with the hands-on help, he said. On St. John, a resident recently donated use of a building near the Bureau of Motor Vehicles facility where the league can meet, and they are working on fixing up their facilities on the other islands. At Whim, for instance, certain buildings need to be torn down and others repaired, Hatcher said. There is some funding, but it's not enough and inconsistent at best. With funding and resources always an issue, Hatcher wants to find new ways to keep these character-building—and ultimately crime-preventing—programs going strong.
"I want to think more outside the box on how we can get to the point where it is self-perpetuating," Hatcher said Monday. "There are so many young people here with so many talents: electrical work, carpentry, masonry, plumbing. Say the government had donated land, and citizens donated their time, and young people constructed their own facility—they could take care of it forever, passing it down the line."
Residents can help, too. The more community involvement, the more success they will have in guiding young people onto the right path, Hatcher said. Even a single person can have a dramatic effect if they simply get involved and do the right things.
"If they can come out and donate their time or their resources to help us, we can certainly use it," he said. "We need people to help with the children and to be role models, too."
Meanwhile, the Police Cadet program is also working well, on a small scale. It has been around for years but was revamped a year and a half ago and is now actively recruiting high school seniors interested in the criminal justice field for its second class.
The first class began with 30 students in each district. Twenty-two young men and women are in the program now; 11 in each district. Two former cadets are in the current police academy class and well on their way to becoming new police officers, while two more are scheduled to start the academy in the next round of classes. Others are currently in college or the National Guard.
While not all cadets are necessarily going through to become police officers, many young men and women are demonstrably benefitting. To try to capture more kids at a younger age and push them to pursue their education, Hatcher and the Police Department are starting up a pre-cadet program, too. While the cadets are students aged 16-19 with spotless records and good grades, the pre-cadets would be as young as 13 and would not have to have completely spotless records. But like their older schoolmates who become cadets, they would take classes and participate in after-school activities focused on crime prevention, first aid, leadership and character building. And to move onto the cadet program and into UVI, they would have to maintain a spotless record.
Hatcher is only on his second week running Crime Prevention and this new, expanded program is not yet off the ground. But he has high hopes. "If you want to see a vast improvement, come back next year at the same time and place," he said.
For more information on how you can help out, or to see about getting your child involved in one of these programs, call the Crime Prevention Office on St. Croix at 773-6393, on St. Thomas at 776-1525, or Hatcher directly at 690-0559.