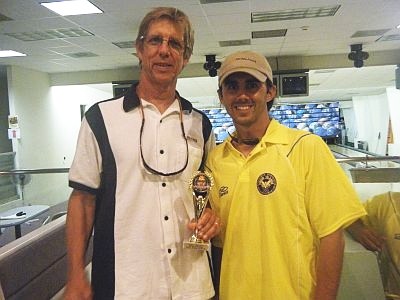 As it got closer to game time, the sound of bowling pins being knocked down and the sight of bright team uniforms swarming the lanes began to blur, heightening the tension between the 16 organizations that turned out over the weekend on St. Thomas to win money for the charity of their choice.
Before each round started, teams were practicing right up until the last second, perfecting their moves and hashing out strategies that would keep them in the running for the $2,525 pot of money and all the bragging rights that went along with winning it.
And as soon as first lady Cecile deJongh stepped out onto the floor to take the first swing, everyone made their final preparations. Shoe laces were tightened, the racks were taken over by competitors searching for the perfect ball and the team captains led their charges into battle. The game was on.
For awhile, all that could be heard was the sound of pins falling. Then, little by little, the sound of shrieks filled the V.I. Christian Ministries Bowling Alley, as the strikes and spares started to build up. Peeping out from behind their balls, competitors craned their necks to catch a glimpse of the other teams' scores, which were lit up on the overhead monitors. Was it going to be a close call?
Not really. At the end of the day, the V.I. Daily News cleaned up at the American Advertising Foundation of the Virgin Islands' charity bowling event with a score of 511, winning the money for the Beacon Schools of the Virgin Islands. Meanwhile, Beacon's director, Diana Parker, won a new Coach wallet in the foundation's raffle, which netted about $150 through ticket sales and previous donations for the Queen Louise Home.
Winning its side bet with V.I. Now by three pins, the V.I. Source also brought in $25 for the Rwanda Project USVI.
The American Advertising Foundation USVI's two-part charity event started last week with an opening at Mango Tango Art Gallery, where the bidding opened on 10 bowling pins painted, designed and reworked by some of the territory's top artists. The pins were also on display at this weekend's bowl off, and were bestowed at the end of the night to the highest bidders. Meanwhile, the team with the highest bowling score was able to turn over the proceeds from the auction to their selected charity.
Individual winners in the bowl off were Terri Depka of MLB Creative with a score of 178 and the Daily News' Ryan Boschulte with 157 points. The team from Banco Popular, one of the event's major sponsors, took home the award for Best Body English, while V.I. Now took home the award for best team uniforms.
MLB Creative organized and coordinated the charity event.