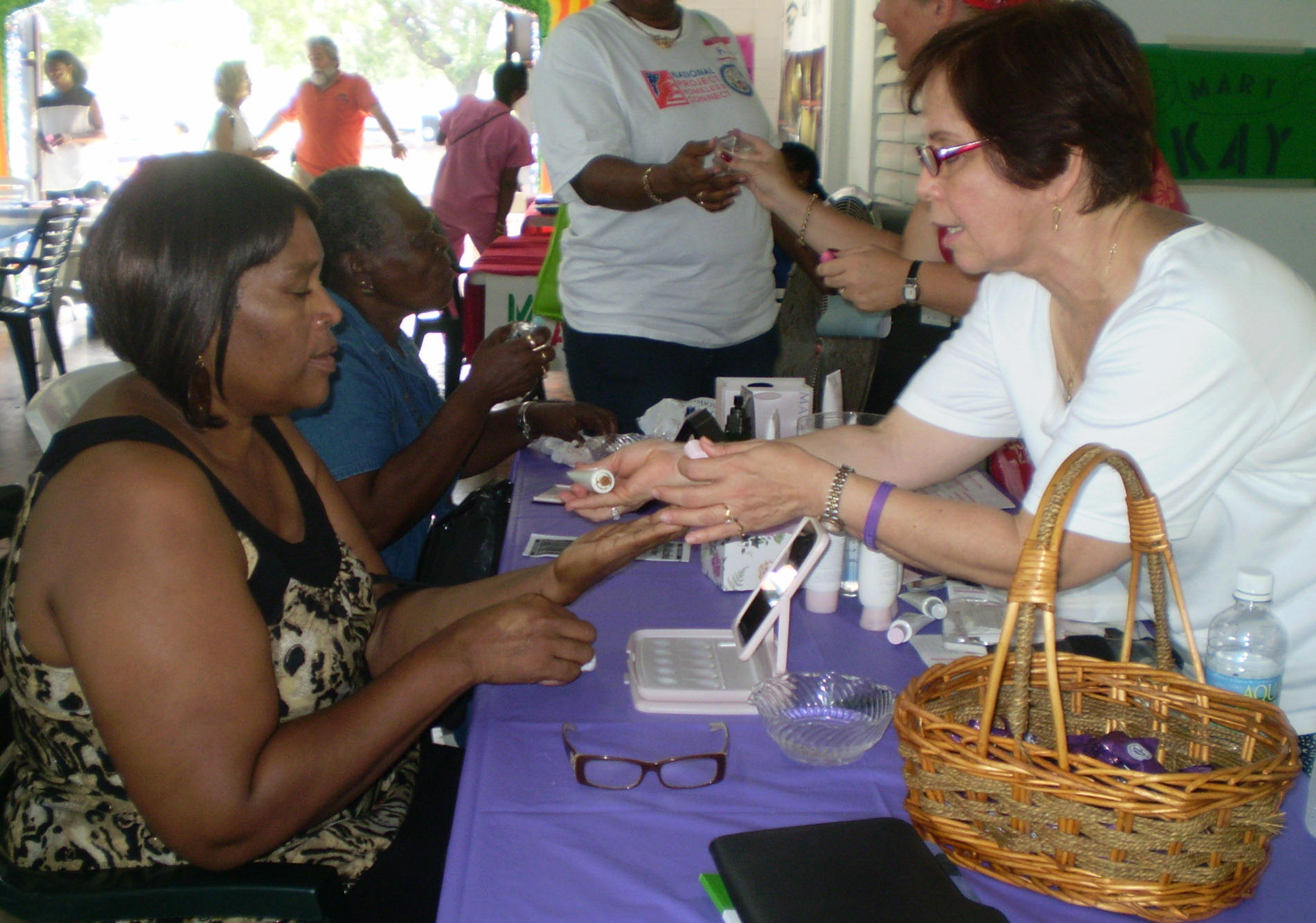 Homeless and underprivileged people on St. Croix linked up with beneficial agencies and service providers all in one spot at Project Homeless Connect at the Agricultural Fairgrounds.
The participants got information Friday on social services, had blood pressure checkups, dental and oral screenings, seasonal flu shots, showers, haircuts, lunch and some entertainment. Ladies were even treated to a makeup consultation and free samples of makeup, all taking place in a friendly and safe environment.
"I like how they treat us," Jason Barrett said as he waited for lunch. "They treat us excellent, and they're friendly." Barrett is a regular patron at My Brother's Table soup kitchen in Frederiksted.
"This is like a family affair," Casmore Desilva said. "The gifts we got are great and the security is strong." Desilva said he ended up in his situation after hanging out with the wrong crowd and suffering a mental breakdown.
"One of the purposes of this event is to provide services in a fun, stress-free environment," said Human Services Commissioner Chris Finch. He said it also builds bonds between the homeless population, service providers and mainstream government, and raises the profile of homelessness.
The Department of Human Services made it possible for the homeless to get connected for the third year in a row.
Some of the agencies connecting with the homeless were the Departments of Health and Labor, Veterans Administration, VICARE, Head Start, Social Security, Legal Services, Women's Coalition, and V.I. Housing Authority.
Clients were taken around to different agencies by a volunteer escort with mandatory stops at health screening tables. Once they completed their rounds, data was collected for records at a discharge table.
Finch said My Brother's Table, Catholic Charities and the Light House Mission all closed today and directed their patrons to the project. Human services arranged transportation from those soup kitchens.
Lunch and breakfast were provided under the direction of Catholic Charities. The food was donated by places such as Gertrude's Restaurant, Cost U Less, Plaza Extra, Herbert Grigg Home, and more. The students in Chef Anton Doos culinary class at St. Croix Career and Technical Educational Center (CETEC) prepared 300 lunches for volunteers and homeless.
Students from the barbering class at CETEC gave haircuts and students and the nursing class did blood pressure checks and diabetes screening.
Spiritual counseling, or just a prayer, were provided by local pastors. Entertainment was provided by South Gate Baptist Church, St. Croix Christian and Island Baptist musical groups.
Dr. Denise Colbert, doing oral screening, said the project should be offered more than once a year.
"It is a real eye-opener seeing how many people need the services offered," Colbert said.
A similar event was held on St. Thomas last Friday.