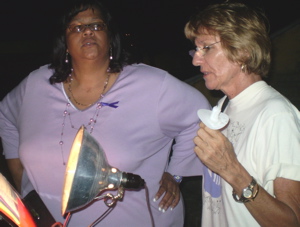 Silence was broken in the march down King St. to Christiansted Harbor by the tolling of a hand bell every two minutes marking the death of a victim of abuse nation wide.
The silent candle-light march was the annual Take Back the Night march and rally on St. Croix, held by Women's Coalition.
Thursday 260 people took part in the march and rally remembering victims of domestic violence. The count was taken when all participants joined hands forming a circle in a countdown calling out numbers.
"I look back to 28 years ago and there were about 20 people who took part in the march and rally," said Mary Mingus, co-director of Women's Coalition. "It is a sad thing that violence made us grow."
Last year's march drew 187 participants, she said.
Gov. John deJongh Jr., carrying a purple floral wreath and candle, led the march along with Jana Dalmida-Theodore and Shalimar Hodge to the Scale House on the green in Christiansted Harbor.
On the steps of the Scale House, volunteers placed 47 pairs of men, women and children's shoes, each pair in memory of a local victim.
A banner with names of the 47 victims was strung across the door of the Scale House.
Sen. Samuel Sanes said it was unfortunate that he recognized the names of three friends on the banner.
The annual Shero and Hero awards were given out to show appreciation to people who work for victims.
Betty Nielsen, a volunteer of three years, got the Shero award, doing everything from landscaping to deliveries. Allan Schuster and Edward McNamara U.S. Marshals at Superior Court, got the Hero awards.
Almost 20 children from the Coalition's after school program sang a moving rendition of "Don't Need You to Tell Me I'm Beautiful."
Songs were sung and the governor could be seen singing and swaying when "Didn't know My Own Strength" by Whitney Houston was sung by all.
"This gives the opportunity to reflect and think about the pain of someone losing someone," deJongh said. "In my job I want to make sure justice is done."
The night was dedicated to the memory of Brenda Osario, who at 27, was murdered in 2006 by her boyfriend, who then killed himself. Her brother and two sons were given a plaque in memory of her.
"This was a special night," said Clema Lewis, co-director of Women's Coalition. "I'm glad her family came out. It is important to recognize people. This is done so none of those people will be forgotten." Lewis said.
St. Thomas
On St. Thomas, a similar event was hosted by the Family Resource Center. Gathering in Emancipation Garden late Thursday afternoon, several school groups, local organizations and parents accompanying their children lined up for the annual parade that runs up Government Hill, and began to march in tune with the Charlotte Amalie High School Marching Band, whose choreographed routines kept every one bouncing along the route.
The Marching Hawks even made a pit-stop at the Legislature Building, putting on a show for some of the senators and staff that had gathered outside to watch. Some of the organizations marching in Thursday's parade come out every year, while others, such as the St. Thomas-St. John cast of Graffiti Street, were making their first appearance.
The parade eventually wound its way back to Emancipation Garden, where Family Resource Center head Sandra Hodge-Benjamin urged the crowd to continue to take a stand against domestic violence by reporting abuse and helping family and friends to seek counseling.
(Ananta Pancham contributed to this report.)