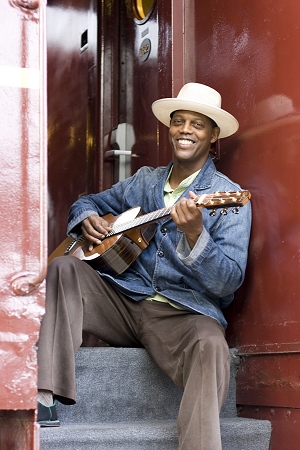 Arts Alive will present Concerts in the Garden. Eric Bibb, acoustic blues artist, will play at 8 p.m., Wednesday, Nov. 4, at Tillett Gardens.
Bibb has been a Grammy nominee and is a four-time Blues Award nominee, including a nomination for Best Acoustic Blues Artist. His songs have been used on a number of television programs and in the film "The Burial Society." His CDs have included collaborations with other artists such as Bonnie Raitt, Rory Block, Maria Muldaur and Arts Alive performer Ruthie Foster. Eric and his father Leon collaborated on a tribute CD featuring the music of Paul Robeson.
He is the son of legendary folk singer Leon Bibb and the godson of Paul Robeson. He grew up in a musical family and has toured throughout the United States, England, Canada and much of Europe, and has played many of the leading music festivals around the world. He has appeared on television programs such as the "Late, Late Show" and "Later with Jools Holland."
Time Out has described his music as "smooth, soulful, subtle and sophisticated." Music Review Quarterly said, "This man has all the credentials to be one of the premier blues artists of all time," and House of Blues radio's Elwood Blues said of Bibb, "you are what blues in the new century should be about."
Tickets for the concert are $30. This season Arts Alive is introducing "The Prelude," a reception before each concert with local jazz and a tapas buffet for only $25. Arts Alive will be highlighting local jazz talent with unique combinations of professional and student musicians. Reservations are recommended. Tapas and concert together are $55. Tickets are available at Tillett Gardens in the Arts Alive office, between 10 a.m. and 4 p.m., Monday through Friday.
This engagement of Eric Bibb is a Virgin Islands Presenters Initiative project, a partnership between the Virgin Islands Council on the Arts and Mid Atlantic Arts Foundation, funded by the foundation in partnership with the National Endowment for the Arts Regional Touring Prog
ram.