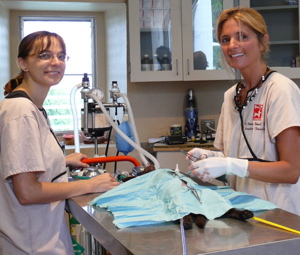 Working to end the overpopulation of feral cats on St. Croix, the Sunshine Foundation is working with area hotels and businesses to spay and neuter both pets and feral cats for just $25 apiece.
"The whole idea is to have a high volume, low cost procedure," said veterinarian Stacia Boswell, a founder of the Sunshine Foundation.
There are thousands of feral cats on St. Croix, congregating near restaurants and hotels, haunting dump sites and living off in the bush. A single mating pair can produce up to 67 kittens in a single year.
"It's a public health issue, and believe it or not, a problem for tourism," Boswell said. "Resorts and restaurants have gotten letters complaining about unhealthy looking cats wandering up."
Unless found as young kittens, cats can't be domesticated. So the only solution other than trapping, neutering and releasing them is to catch and kill them,, and that option is not only unpalatable to many, it's also not as effective. The remaining cats just fill in the gaps and make more. But neutering them progressively slows the growth of the feral population.
Several hotels and resorts are already working with the program, Boswell said. Carambola has already trapped, spayed and neutered 50 cats from around the resort and built three "Cat Cafés;" stations that look like miniature versions of their resort. Staff and volunteers put out food and water for the cats, so they learn to go to those spots and not the lobby or around the guests. The cats are much healthier as a result too, she said.
"They are setting a great example for the community," Boswell said. Some restaurants along the Christiansted Boardwalk and elsewhere are getting involved too.
Since setting up the Sunshine Foundation, Boswell and co-founder Anna Loizeaux have neutered more than 450 cats, working every Tuesday and Thursday at their veterinary clinic in the Sugar Mill in La Grande Princesse. Of those, 106 were feral. Left in the wild, those could have produced 1,272 more feral cats over that time, Boswell said. About a quarter of all the animals euthanized on St. Croix every year are feral cats. Getting household pets sterilized will help ensure they don't add to the feral population, and a tax deductible donation will help the foundation trap, neuter and release more feral animals.
In addition to the neutering operation, each cat gets a blood test and a vaccine booster and its ears are treated for ticks.
"You get a lot for the $25, it's a good deal," Loizeaux said.
For businesses and others who want to help with feral cats, they will help you set up feeding stations, give you educational materials and perform the necessary surgery. They even offer box traps at no charge- though they do ask for a deposit to make sure they get the traps back.
Those who want to help or find out more can call them at (340) 690-3335 or e-mail info@sunshinefoundationstx.org. Donations can be made online via PayPal at their website www.sunshinefoundationstx.org or by mail to: Sunshine Foundation 4220 La Grande Princesse, USVI, 00820.