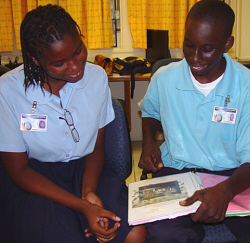 Officials at Charlotte Amalie High School announced Tuesday that their finance career academy is working with a nationwide network of other similar academies as part of the National Academy Foundation.
Students taking classes through the academy receive instruction on a business theme; English classes, which offer business-relevant communications including correspondence and proposals; and math classes, which offer finance-related instruction.
The NAF is a network of high school academies functioning as "schools within schools — with rigorous, career-themed curricula consistent with current industry and educational practices…."
The foundation's mission is to "sustain a national network of career academies to support the development of America's youth toward personal and professional success in high school, in higher education, and throughout their careers," according to the organization's website.
CAHS ninth graders Cherisma Callwood and T.J. Thompson are among the 21 students in the program, available for all four years of high school. The final year includes an internship in the business community.
Callwood said that her first choice was a medical career path, but her 11th grade brother told her that the business classes would be useful.
"I'll know how to manage money and be more well off," said Callwood, whose goal is to be a medical scientist but also sees the value of the business skills training in helping her to achieve her financial and career goals.
She's already completed one assignment: penning a letter to Gov. John deJongh Jr., explaining the strengths of the training she's getting and encouraging the governor to support the program.
"… More people with financial literacy will build our economy and perhaps fewer businesses will become bankrupt," Callwood's letter states.
The importance of compounding interest has resonated with Callwood.
"If I have a bank account and it gives three percent interest it will eventually accumulate," Callwood said. "It's not a high percentage, but it adds up."
With a goal of being wealthier than Bill Gates, Thompson wants to learn about working in the stock market.
The training is preparing him to know how to manage his wealth, Thompson explained.
"I'll be managing my money instead of losing it," Thompson said. "I will actually be gaining more money."
Teacher Laughton Brandy summed up the finance principles that he wants his students to take away from the class.
"Finance is what drives the economy," Brandy said. "Management of money is important to personal wealth and national wealth. … Students must develop money management skills for creation and management of that wealth. I see signs of students who are anxious to make a contribution to this community."
Brandy also has a message for businesses in the territory.
"We now have a program that you can feel comfortable investing in," Brandy said. "We are preparing students for you, so be a part."
CAHS program has been well-researched, according to Principal Carmen Howell, who sent teachers to training programs in Phoenix and to Model Schools workshops in 2008.
"NAF was the source for technical information," Howell said.
Drawing the distinction between CAHS program and a career technical program, Jeanine Flynn, NAF's director for the southeast region, said that career programs offer students the option to continue their education after high school, or go into a career or do both.
Studies have shown that students who have been involved in the career academies tend to have increased earning gains, and tend to be more stable in their family environment, according to William Taylor, NAF's senior director for network development and expansion.
The network of academies offer some other attractive statistics.
"More than 90 percent of NAF Academy students graduate from high school — compared to 50 percent in the urban areas where most NAF Academies exist; four out of five graduates pursue college or other post-secondary education," according to the foundation's website.