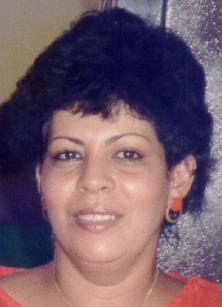 Anna Gautier Latimer of Two Williams died on Oct. 8, at her residence. She was 63 years old.
She is survived by her mother, Lucia A. Gautier; sons: Manuel and Demitrius Gonzalez; grandchildren: Lizel Marie, Marieliz T., Demitrius Joseph, Samtha L. and John Paul Gonzalez; daughter-in-law, Lizel T. Gonzalez; sisters: Carmen L. Gautier and Eppie Gautier Saldan; and brother,Victor Gautier. She is also survived by nieces: Diana Takamori and Erika M. Saldana; nephews: Chris Gautier and Danny Saldana; great-niece, Chassity A. Coronado; aunts: Olga Torres, Guillermina Figueroa and Andrea Minguela; special friends: Natalie Ballentine and Marion O'Riley; and other relatives and friends too numerous to mention.
A viewing will take place at 9 a.m. and a funeral service at 10 a.m., on Thursday, Oct.15, at St. Joseph's Catholic Church. Interment will follow at Kingshill Cemetery.
Professional services are entrusted to James Memorial Funeral Home Inc.