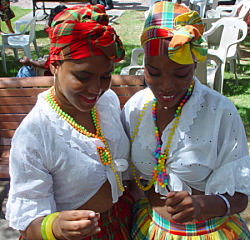 The Virgin Islands commemorative quarter was officially launched Friday amid throngs of school children who were encouraged to remember this historic day.
Hundreds of school children along with quadrille dancers, mocko jumbies, government officials and onlookers saw the first quarters in the Virgin Islands unveiled in Emancipation Park.
It took 12 years to get to this point, according to Delegate Donna M. Christensen, who lobbied Congress and the U.S. Treasury and Mint to get the territories included in the commemorative state quarters program.
Noting the historic connection between the Virgin Islands and Treasury, where Crucian Alexander Hamilton was the first secretary of the Treasury, Gov. John de Jongh Jr. told the schoolchildren that this was a day to remember.
The governor also lauded the process of selecting the design of the quarter, telling the assemblage that the process was inclusive of everyone, as the design was selected by Virgin Islanders all over the globe.
"This was not a process that excluded anyone," de Jongh said. "Through the Internet everyone had a chance to participate."
"The children who came out actually got to be part of history today," St. Thomas Chief of Police Rodney Querrard said. "I really wish students from every school could have been here."
The historical significance was not lost on band members from Bertha B. Boschulte Middle School, who played the National Anthem and the Virgin Islands March.
Receiving his quarter from the governor himself, first trombone Orlando Martinez described his first view of the quarter.
"I see the flowers, the bird, the palm tree and the islands," Martinez said. "I am only the second person to touch this quarter [after the governor]."
The winning design sports a Bananaquit or yellow breast, the official bird of the territory, the yellow cedar, the official flower and a Tyre palm tree as well as outlines of St. John, St. Croix, St. Thomas and Water Island. The design also carries the motto, "united in hope and pride."
V.I. Territorial Emergency Management Director, who grew up in the Virgin Islands and came back to serve in his post at the Governor's request said that he was pleased about the Virgin Islands inclusion in the commemorative quarter program.
"It's good to see that we are part of the U.S. in every facet," Walters said.
The governor's cabinet two numismatists, Commisioner Wayne Biggs of the Department of Licensing and Personnel Director Kenneth Hermon, said that they had long anticipated this day.
"I got the commemorative container," Hermon said. "I'll put it the safe deposit box. I bought $30 worth of quarters, and I will be giving one of the new quarters to each one of my staff."