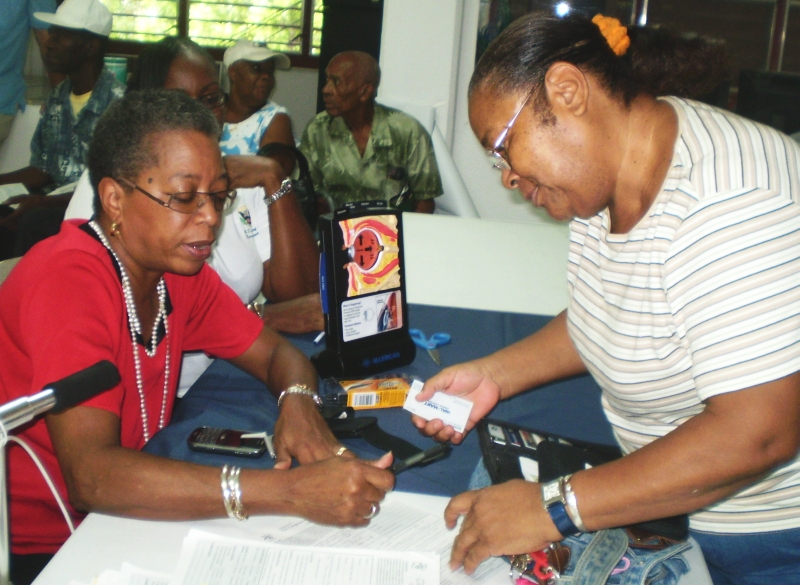 Through the efforts of Delegate Donna M. Christensen, 155 residents — young and old — got free glaucoma screenings Monday, with more screenings scheduled this week on St. Thomas and St. John.
People were lining up at 6 a.m. for the 9 a.m. registrations, said Sari Anduze, V.I. outreach coordinator for the screening.
"Obviously, with this turnout, the services are really needed," Christensen said. "What is important is if we find elevated pressure in anyone they will have followups for a year."
The delegate was on hand helping to register people at the American Red Cross facility in Castle Coakley. One hundred more people have scheduled appointments in the next six months.
Five stations were set up for participants to get the visual screenings and checks for eye pressure. A table was set up for people to get their weight, height and blood pressure checked.
"There is a link between diabetes, high blood pressure and glaucoma," said Dr. Alfred Anduze, a local ophthalmologist. "Overweight people have poor blood circulation, which makes eye pressure go up."
Glaucoma attacks the optic nerve, and once it's damaged it can't be repaired, according to Anduze. African-Americans and Caribbean people are high-risk groups for glaucoma, he added.
People with a positive reading will get more in-depth exams by an ophthalmologist.
The screenings were offered by the Friends of the Congressional Glaucoma Caucus Foundation in partnership with Creighton University and St. Croix Eye Group. The Friends of the Congressional Glaucoma Caucus Foundation supports the work of the Congressional Glaucoma Caucus by offering free glaucoma/vision screenings to high-risk groups and underserved populations in congressional districts around the country. The foundation is supported by a grant from the Centers for Disease Control.
"This was an excellent service provided today," said Nestor Toussaint. "No problems for me, as far as they can see."
Screenings will take place on St. Thomas from 9 a.m. to 4:30 p.m. Tuesday and Wednesday at Frederick Lutheran Church, Bethania Hall. On St. John, screenings will take place from 9 a.m. to 4:30 p.m. Wednesday at St. Ursula Multi-Purpose Center.