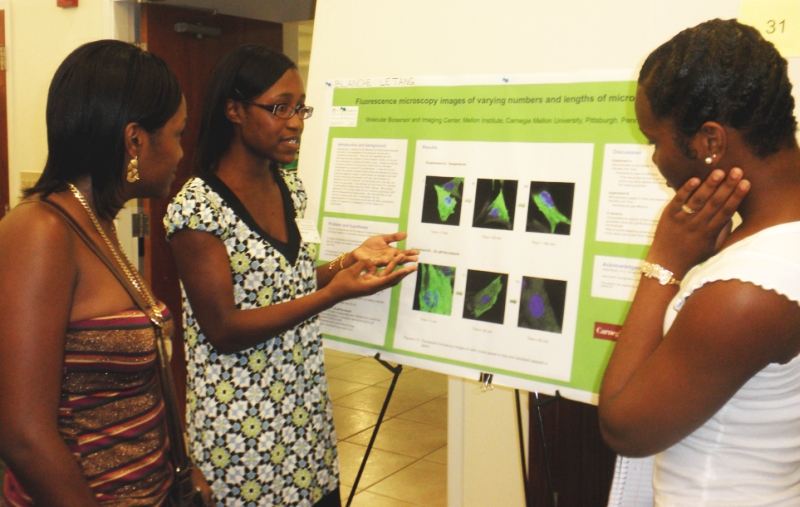 Students, instructors, members of the community and presentation judges listened to scientific descriptions and explanations from student researchers Sunday during the University of the Virgin Islands' 11th Annual Fall Student Research Symposium, held at the UVI Administration and Conference Center on the St. Thomas campus.
The symposium, sponsored by UVI's Division of Science and Mathematics and the Emerging Caribbean Scientists (ECS) program, gave students the opportunity to showcase research they conducted over the summer and during the past year. Approximately 46 UVI student researchers participated in the event, designed to demonstrate the importance of science, technology, engineering, mathematics and psychology-oriented research to the greater UVI and V.I. communities.
Research subjects included studies of local plants and animals, such as the Caribbean lobster, sea urchins and the St. Croix white hair sheep. Other projects looked at the use of magnetic-resonance imaging (MRI) to detect iron levels in Alzheimer's Disease, red blood cell bioreactors, mate selection in young people and usage of algorithms to solve airport gate-assignment problems.
Akima George, a sophomore with a double major in biology and chemistry, spent the summer looking for the DNA fingerprint of the Yellow Prickle, a citrus plant native to the Virgin Islands and Puerto Rico. George and four other students worked on the St. Croix campus conducting lab tests, each of them researching a different plant. The plants chosen for the project had been previously under-researched and, according to George, no previous studies of the Yellow Prickle had ever been done.
Funded by a grant from the Emerging Caribbean Scientist program, George was paid an hourly wage while conducting her research. She "wanted the research experience" and intends to work in research science and medicine after getting her Ph.D.
"I want to create medicines that help to cure people with diseases, and better medicines without side effects," she said.
Blanche Letang, also a sophomore, is majoring in biology and applied mathematics with the goal of becoming a biomedical engineer. Letang spent the summer at Carnegie Mellon University researching the effects of temperature on microtubules, which aid in managing cell structure and cell growth, comparing results to the effects of Nocodazole, a cancer drug, on cells.
Letang's research at Carnegie Mellon was also made possible by an Emerging Caribbean Scientist program grant. The grant covered her airfare and living expenses for the summer, an opportunity she deemed invaluable.
"I got to use a lot of state-of-the-art equipment and technologies that I wouldn't otherwise have had access to," Letang said.
Each student had a mentor or mentors guiding them with their research, along with support from UVI's Division of Science and Mathematics.