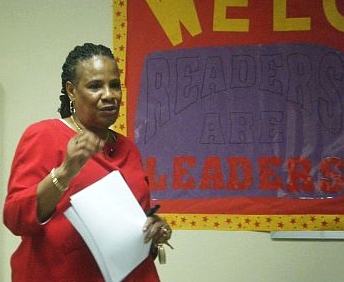 Getting more parents involved in academic activities is the goal this year for the local Parent Teacher Student Association, whose members got together over the weekend on St. Thomas for the first in a series of meetings to be held for PTAs and PTOs in each district.
Building off the success of its Parent University on St. Croix, the Education Department will bring the program to St. Thomas this year, according to district Superintendent Jeanette Smith. Local PTSA members will be asked to brainstorm topics for the various parent workshops, while the department will help provide parents with resources such as transportation and babysitters.
"The district this year is committed to making great strides in parental involvement — we won't let up," Smith told the handful of members at the meeting.
Some parents may not feel comfortable going to school and interacting with their child's teachers, while others may feel uncomfortable talking about certain subject areas, such as technology.
"It's understandable," Smith said. "But we want parents to be aware of everything the students are learning about, and we're going to help them with that."
Some members suggested that letting the students teach the workshops might help make the learning process easier, while Smith said local schools will be asked to develop parent centers that provide additional activities and access to various materials.
"We hope that by the end of the year, we will see a marked improvement in this area," she said.
The PTSA will also wage its own campaign, which includes boosting the membership of local PTA groups and getting them integrated into the national Parent Teacher Association, members said during the weekend meeting. Various training and governance sessions are being scheduled, while PTSA committees will be assembled to put together a "plan of work" or strategic plan, which will include getting new schools and community members involved, according to Margarita Benjamin, PTSA bylaws chairwoman.
Meanwhile, PTSA members can get to work by becoming more of a presence at school activities and community events, along with building their marketing efforts by reaching out to students, many said.
"This can include consolidating activities so that both the parents and students can come," Benjamin said. "And for every activity that a school has, the PTA should be given a chance to make a presentation or set up a booth, something like that."
Raynard Malone, the PTSA board's student representative, said sending out text messages or contacting students on Facebook can also be a good way to send out reminders about meetings or activities. But many PTSA members also reminded him that providing incentives — such as pizza parties — is an important part of the marketing process.
"You have to find out what the students want," said PTSA President Deborah Adams-Gonzales.
Malone, a senior at Ivanna Eudora Kean High School, said later that he looks forward to working with the board throughout the year and helping to boost parental involvement in schools.
Also attending the weekend meeting was Belinda West-O'Neal, executive director of the Inter-Island Parent Coalition for Change, who gave the members an overview of the organization's programs and some tips for making PTA meetings more interactive, such as playing educational games and puzzles.
For more information on the local PTSA chapter, or to become involved, contact Cecil Potter at 643-8186 or Gonzales at 344-9973.