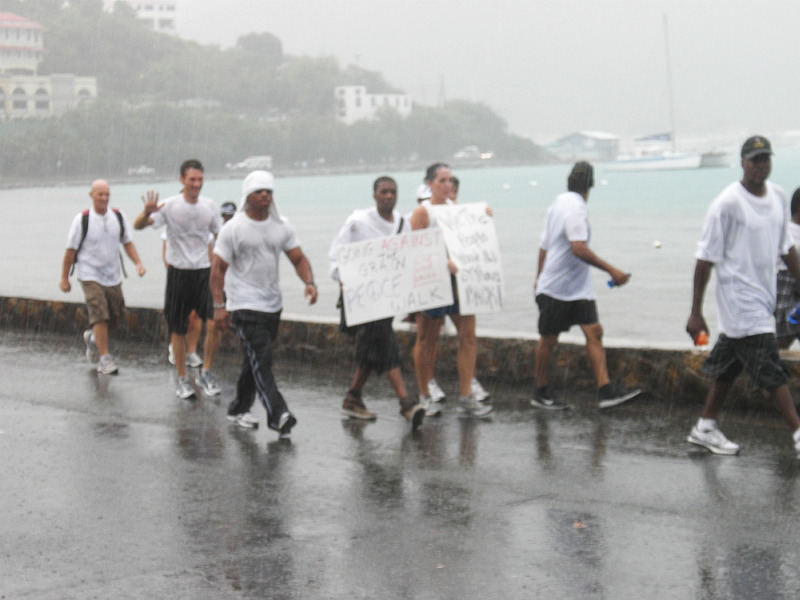 As the rain came teeming down and streets began to flood Saturday morning, a few hundred community members wearing white T-shirts marched from Red Hook Plaza to Emancipation Garden to show their commitment to putting a stop to the violence on St. Thomas.
St. Thomas native Devon "Dutchie" Robinson, author of two books and a weekly V.I. Daily News column aimed at helping troubled youth, was on St. Croix for a speaking engagement with Judge Greg Mathis, star of a courtroom reality series, when he heard about the latest murder, St. Thomas' 47th this year. He was scheduled to return to Atlanta, where he currently lives.
"When I heard about the murder and how high the rate was, I knew I had to do something," Robinson said.
He quickly organized the Red Hook-Emancipation Garden walk, called the Going Against the Grain Peace Walk, and spread the word via radio and newspaper ads and through the schools.
Ivanna Eudora Kean High School Principal Sharon Ann McCollum used a brand-new system called School Reach to get the message about the walk to her students. Purchased at the end of the last school year, School Reach is an automated phone-call system that enables the school to call each student's home phone with a prerecorded message.
McCollum provided hot egg sandwiches to the soaking-wet walkers as they arrived at Emancipation Garden.
"Dutchie is an alumni of the school, and I believe in what he does," she said. "Anything that positively influences the children we will support. It's all about the kids. If we don't get it right, it's the entire community that suffers."
Sen. Louis P. Hill was the only senator who participated in the walk, braving the weather to walk alongside Jane Brown from the East End Democratic Club and Joyce Waller, member of Rotary East and the Red Hook Community Alliance.
"For us to be in this rain and travel the distance we did, it sends a clear and strong message to the people that want to cause chaos in this community that we will not tolerate it anymore," said community activist Jason Budson.
Kids and adults chanted as they walked, prompted by Robinson, voicing their demand for the violence to stop. The crowd of 200-plus had dwindled to approximately 80 by the time they reached Emancipation Garden, and those who made it congratulated each other for completing the trek given the conditions. They shouted and high-fived as they tried to dry off.
Robinson hopes to organize another walk in six months.
"We want to let the criminals know that they need to fear not only the police, but that they need to fear the people of this community," he said.