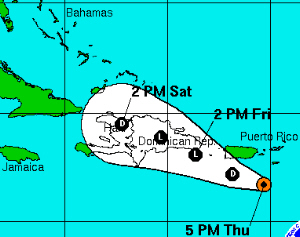 Erika is now a tropical depression, downgraded Thursday from a tropical storm at the 5 p.m. update by the National Hurricane Center. Tropical storm warnings issued Thursday morning were discontinued.
That doesn't mean the territory is totally off the hook.
"You'll get showers tomorrow and some could be heavy," Walter Snell, a meteorologist at the National Weather Service in San Juan, said at 7:30 p.m. Thursday. He expects two to four inches of rain to fall.
Those showers will come from the depression's outer bands, which Snell said may not totally leave the area until Saturday.
The territory could also get gusty winds but not up to tropical storm force, Snell said. Tropical storm force winds begin at 39 mph.
Erika still has winds of 35 mph with higher gusts, putting it only 4 mph below tropical storm strength.
As of the 5 p.m. update, Erika was centered at 16.7degrees north latitude and 65.3 degrees west longitude. It was moving west at 12 mph. The barometric pressure stands at 1007 millibars or 29.74 inches.
As Snell spoke, he said Erika's center was passing south of Puerto Rico.
Erika has been a challenge for forecasters since the get-go. It went from being a tropical low to a tropical storm, bypassing the depression stage. The track zigged and zagged, making it difficult to pinpoint who would get the worst weather.
"Erika," Snell said, "is misbehaving."
According to Snell, Erika could regenerate back into a tropical storm, but he expects it to be past the area by then.
Erika's fickleness kept local agencies on their toes. Thursday night, Government House was still waiting to see what the storm would do before government officials decided whether to cancel school and close government offices Friday. Government House spokesman Jean Greaux said it was likely that the decision wouldn't be made until after midnight to give forecasters more time to get a handle on the what Friday would bring.
"If it starts to rain heavily, how do we get the kids home?" Government House spokesman Jean Greaux said, discussing the dilemma faced by the government if it doesn't close the schools.
Late Thursday afternoon, V.I. Port Authority Director Kenn Hobson said in a press release that Cyril E. King Airport on St. Thomas and the Henry E. Rohlsen Airport on St. Croix were both fully operational. He said the Port Authority has no plans to close either airport.
That said, he advised travelers to check with their airlines to verify flight information and possible cancellations.
Hobson also said that ferry operations between St. Thomas and St. John will continue on normal schedules.