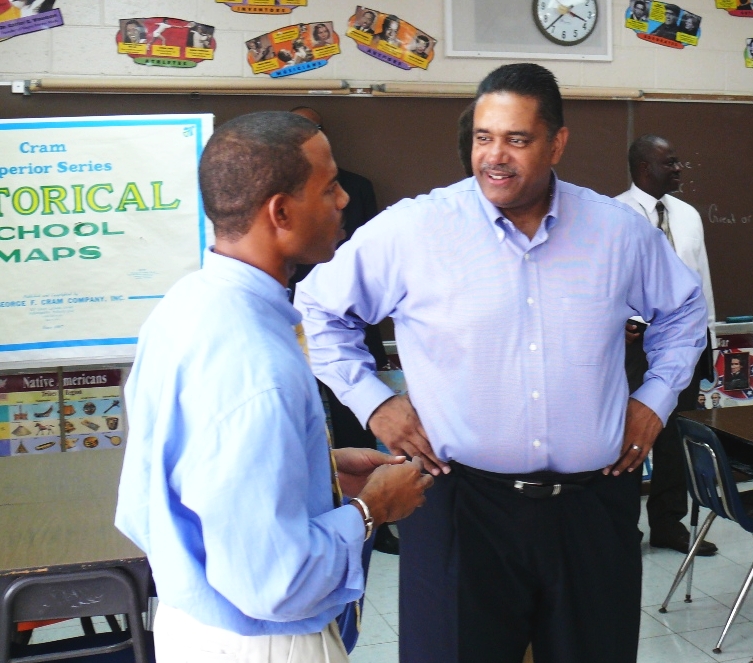 Gov. John deJongh Jr. and Commissioner of Education La Verne Terry spent the first day of school touring public schools, checking on the state of summer renovations and listening as teachers and principals aired their concerns.
On St. Croix Monday, deJongh and Terry visited Arthur A. Richards Jr. High, St. Croix Central High, John H. Woodson Jr. High and Lew Muckle Elementary. They were followed by a small caravan of sport-utility vehicles bearing television, radio and print media.
Woodson saw the most dramatic improvements over the summer. For years, the school's buildings have been plagued by excessive heat and moisture, causing the school to shut down in 2005 and students to double up for two years at nearby Elena Christian Jr. High. More recently, on several occasions throughout the 2008-09 school year, teachers staged walkouts and students refused to go to class because temperatures in many classrooms exceeded the 90-degree maximum allowed in the teachers' contract. First, the Education Department installed large ventilation fans, but when these were not enough to cool the rooms down, plans were made for more extensive work and, over the summer, industrial air-conditioning systems were installed in many of the rooms.
"The air conditioning is really nice," said Rameek Croskey, a U.S. history teacher at Woodson. "The building is not perfect, but it is much better than at any time in the nine prior years I've been here."
Basic maintenance and cleanup was more thorough than in years past, too, he said. But the air conditioning was the show stopper for Croskey and other teachers.
"The heat, along with the moisture we have here because we are on a flood plain, made things swampy here, and so we had a lot of issues with mold," Croskey said. "The air conditioning really helps with both. It's 75 degrees in here now. Going from temperatures in the 90s down to 75 degrees makes a big difference for students who are sitting and trying to pay attention for an hour and a half."
Science teacher Ann Louise Wilkins said much the same.
"It was nice cleaning and getting ready for the students in the cool, pleasant temperature," Wilkins said. "And the floors, the desks, everything was really cleaned this year. So I am happy for the improvements, and I have more faith now because I see they are really fixing things, while last year and the year before we kept being told the work was going to start but it didn't seem to really be happening."
This summer Woodson had more than 50 air-conditioning units installed, the building's wiring was upgraded and its auditorium was completely renovated, with a new ceiling, new seating, new flooring and air conditioning, making it probably the most improved school plant in the system this year.
"Woodson was very important this year," deJongh said. "I'm glad to see it completed, despite some difficulties and irrespective of some vandalism earlier this month. The complete environment of the school has changed, particularly in that school's auditorium."
At Arthur Richards, Principal Daphne Williams showed the entourage around, with deJongh stopping periodically to talk with a uniform-clad student or to ask about a particular repair. At one point, deJongh had Williams show him one of the school's vending machines.
"We've got nothing but juice there, nothing with sugar added," Williams said.
"As long as there is no Coke, I'm happy," deJongh joked.
Williams said the school was ready for students, but there were issues to be addressed.
"We do have a couple of challenges, such as some air-conditioning issues to be worked out, but overall we are doing well and ready for school," she said.
Over at St. Croix Central High, deJongh was photographed and given his own ID badge declaring him a freshman at the school.
At Lew Muckle, Principal Deborah Rodgers asked the governor about some landscaping concerns and whether old white dry-erase boards, recently replaced by Promethean Boards, could be hauled away. The Promethean Boards blend the interactive features of an overhead projector with the computer projection of PowerPoint.
When the tour was done, deJongh said he was happy with the progress that had been made in a short time frame. The summer work started late due to fiscal shortfalls caused by the recession and delays in getting bond funding in place to pay for the work, the governor said.
"Despite that, a great deal was accomplished before the start of the school year, and more is being accomplished," he said.