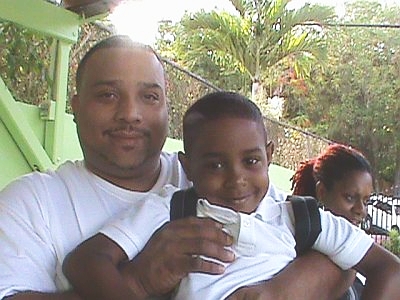 After a brief morning drizzle coated the courtyard at Joseph Sibilly Elementary School, 6-year-old Niko Webster gathered in the courtyard with his schoolmates for morning assembly, reciting the Pledge of Allegiance.
His stepfather, Hubert Moscoso, was nearby, watching with the other parents as school principal Lois Hassell-Habtes and the rest of the faculty made their first-day-of-school announcements and officially opened up another school year.
And after the remarks were over, Moscoso — accompanied by his wife, Melissa Rivera — went on to accompany Niko to class, making good on the Million Father March oath he took Saturday night in Emancipation Garden to be there for his child on the first day of school and to continue to be a presence in his life throughout the year.
Last week, Moscoso taught Nikko how to get dressed for school.
"I showed him what goes first, what goes last," Moscoso said Monday as he stood next to Niko, waiting for the morning assembly to begin. "I was surprised this morning when I saw that he was all dressed and waiting, ready to go."
Niko said he had a bit of trouble with the pants and tucking in his shirt, but his stepfather's advice made the morning ordeal easy to get through. In little to no time, he was eating his Cornflakes for breakfast and heading out the door with his parents.
Waiting for school to start, Niko said he was excited to meet his teachers and set up a spot in his new classroom, and had set his sights on being the number-one student in his class.
"Niko is very competitive," said his mother, Melissa Rivera. She explained that her son was second in his class the year before. Asked about how the large family stays balanced — the couple has five children ranging in age from two months to 17 — she laughed and said, "by continuing to assert those core values: respect for each other, the importance of family and just continuing to be there for one another."
Throughout the island, similar first-day-of-school activities were underway.
Addelita Cancryn Junior High School was bustling with activity as students flocked to their first day of school in neat maroon-and-white uniforms.
Principal Yvonne Pilgrim, looking very fresh herself in a smart black-and-white outfit with shiny red heels, said she was pleased with new initiatives the school is introducing this year — a Plato computer classroom tutorial program that will be used in four core courses: math, language arts, science and social studies.
"A team of 100 students in the seventh and eighth grades will take the classes, which allow them to use the computer software to improve the students' skills," Pilgrim said. The classrooms are still supervised by regular teachers.
There are four classrooms with about 20 to 25 students per class, with 45 minutes of computer instruction, and 45 minutes of teacher guidance. Pilgrim said the two high schools and the other junior high schools have the same program.
Another initiative will help students who may be the first in their families to attend college, Pilgrim said. It's not an advanced-placement program, per se.: "It's for students who have the potential to do better work. It provides social and emotional support."
The day was not without glitches. Anna Francis' science classroom had no lights because of a fuse problem. Francis used the situation to instruct her students about the five senses.
"We will go outside and take a walk and I want you to observe everything," she said.
"Like what we smell and what we see?" asked one young man.
"Yes, that's a start," Francis said with a smile.
Librarian MariBeth Aguila is introducing a new Media Literacy course this year.
"It's to teach the students what sources are available to them, other than print," she said. "They will learn about using the Internet for, say, bibliographies, and research."
There is also a program with what Aguila calls a "tongue-twister" name: Tumble Readable.
"They are web-based audio books," Aguila said. "They cover all sorts of books: the classics, fiction and non-fiction. The students can take them home, just like regular books."
Charlotte Amalie High School principal Carmen Howell also described a range of new initiatives faculty and staff plan to undertake this year. For the first time, the school is offering its first finance academy within its business program, and was recently awarded a $200,000 grant for the establishment of an after-school program for at-risk students.
The focus this year, as with every year, is on learning, and to make the process easier, a structure has been set up to allow teachers working in the same subject areas to collaborate on lesson plans, examinations, student work and other areas.
There is still a need for more room at the school, however. Howell said that while the day went smoothly overall, the morning was hectic because two orientation sessions had to be held for incoming freshmen. The 500 new students and their parents couldn't all fit into the CAHS auditorium in one sitting, and other areas — such as the library — were being used for instruction, she explained.
The school has bout 1,600 students this year — about the same as every year — and most of the older facilities on campus weren't build to accommodate the load, Howell said.
"But generally, everything's been good," she said. "We did a lot of work over the summer, both on the physical side of things and also on the planning and academic side, getting everything ready for the first day of school, and today we've really been seeing the fruits of our labor."