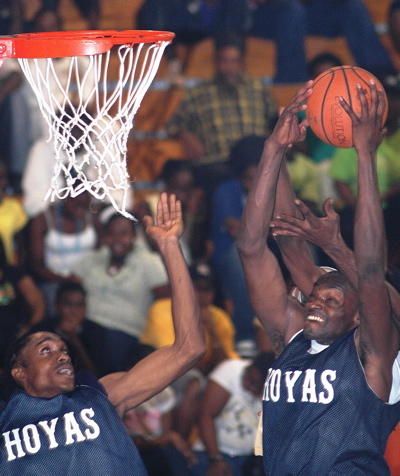 The defending champions Hoyas drew first blood in the 2009 New Breed Basketball Association finals by beating the Lakers, 101-86, Wednesday night at the Educational Complex.
The slightly undermanned Lakers put up a good fight and came back from being down by as many at 29 points, but the fight to get back in the game took its toll down the stretch and the deep Hoyas squad was able to pull away late for the game one victory.
The two teams matched shot for shot for most of the first quarter, but led by Rashawn Williams' eight points in the period the Lakers were able to hold a one point advantage at 21-20 at the end.
The Lakers opened the second quarter on a 14-9 run and were ahead by six points with 3:50 left in the half, to the delight of their fans. The Hoyas responded mightily, however, with a 20-4 run to close out first half ahead by 10 points at 49-39. The Hoyas got a huge lift in the second quarter from reserve point guard Aska Gage, who scored his 11 points in the period. That turned out to be all the scoring he would do for the game. Jahawa Joseph had eight for the Lakers.
The Hoyas opened the second half with an 11-0 run to burst out to a 21-point lead, 60-39, and many thought it was over for the Lakers. Darnell Hendrickson got hot in the period and the Hoyas lead would swell to 23 points at 71-48 with 2:10 left. However, the Lakers went on a 9-3 run and closed out the quarter down 17 at 74-57.
Taking his team on his shoulders, Williams erupted for 14 fourth-quarter points as the Lakers, with the momentum from the end of the third period, started the final quarter on a 21-10 run that saw them close to within six points of the lead at 84-78.
However the energy it took them to make that run took its toll in the final four minutes and they could get no closer. The Hoyas, led by Akeem Francis, would restore order, then pull away down the stretch for their 101-86 game-one victory.
Hendrickson and Andre McIntosh led the Hoyas with 17 points apiece, Kurt John had 15, Karl John 12 and Francis finished with 10. For the Lakers it was Williams leading five teammates in double figures with a game high 29 points, Jerome Nathaniel netted 17, Rundell Harris had 12, Lloyd Gilbert and Joseph finished with 10 points each.