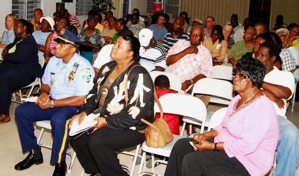 About 60 St. Thomas residents turned out Wednesday night for another in a series of community meetings hosted by Gov. John deJongh Jr.
Gathering at St. Andrew's Church in Estate Thomas, residents put forth a long list of concerns, mostly centered on crime and incidents occurring on First Avenue, according to a Government House press release. They pinpointed "frequent" instances where shots have been discharged, and discussed the Police Department's overall response to service calls, the release said.
Concerns over traffic flow and congestion in the area, speeding on Alton Adams Drive, the impact of numerous gas stations in the Sugar Estate area, the presence of illegal gambling, the need for additional streetlights, the presence of the mentally-challenged residents in the community and employment opportunities also dominated the discussion.
On hand to address the crime issues, acting Police Commissioner Novelle Francis and Deputy Police Chief Dwayne DeGraff familiarized residents with the Crime Stoppers program and encouraged them to participate.
The governor gave an overview of what government officials have been doing to mitigate the effects of the ongoing economic recession and also spoke about the administration's efforts to bring in federal funds and improve health care coverage.
Meanwhile, Public Works Commissioner Darryl Smalls updated residents on the status of the ongoing drainage project in Sugar Estate that's meant to alleviate a long-standing flooding problem. He also discussed the status of the Long Bay Road project, traffic improvements at the bottom of Raphune Hill and other planned road repairs.
Also attending the meeting were Waste Management Authority and Fire Services officials, who discussed improvements being made to the Long Bay pump station, scheduled garbage pickups and problems fire fighters face in navigating the larger trucks and pumpers through Sugar Estate, since many cars park on the sides of the streets, among other things.
Assistant Fire Services Director Darryl George also talked about challenges the agency is facing with abandoned buildings in the area and told residents that Fire Services is on schedule to perform routine maintenance and a systems check on all hydrants in the community.
Also attending Wednesday night's meeting were Housing, Parks and Recreation Commissioner St. Claire N. Williams and St. Thomas-Water Island Administrator Barbara Petersen.
The next town meeting will be held at the Lutheran Church Parish Hall on Norre Gade at 6 p.m. next Wednesday, Aug. 19. At that time, the governor will host the residents of the "We from Upstreet" community.