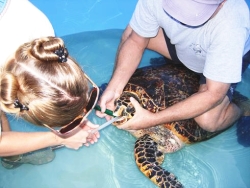 A fully mature, nesting hawksbill sea turtle that was badly mauled by dogs at Sandy Point last year is convalescing at a hospital for sea turtles in the Florida Keys and will fly back to St. Croix to reenter the wild this autumn when the weather cools.
Claudia Lombard, a wildlife biologist with U.S. Fish and Wildlife stationed at Sandy Point National Wildlife Refuge, was walking the beach at Sandy Point, doing her regular morning patrol, and found nesting turtle tracks coming out of the water, but none going back in, so she began looking for the turtle to see if it was lost or in distress. She found the turtle – lated dubbed "Sandy" — farther in from the beach, battered and bloody from attacks by feral dogs.
For a month or so, Fish and Wildlife staff treated the 160-pound turtle themselves, but Sandy was getting worse, not better, so they contacted The Turtle Hospital, a non-profit institution on Marathon Key dedicated to rehabilitating injured sea turtles and returning them to the wild.
American Airlines generously flew the injured turtle to Florida for free, and when the time comes, will bring Sandy back.
At the Turtle Hospital, veterinarians had their work cut out for them. Initially, Sandy was unwilling or unable to eat, and staff fed her squid with a tube into her stomach. And then there was the physical damage.
"Our vet, Doug Mader, had to amputate the right front flipper to prevent sepsis, there was so much bone exposed," said Tara Vickrey, a rehabilitation specialist at the turtle hospital. "We also had to remove part of the left front flipper because the dogs tore into the muscle."
Nesting tracks in the sand have shown that turtles can survive and successfully breed when missing one flipper, Vickrey said. That she was missing part of a second flipper was cause for concern. But Sandy has been recovering nicely, and is healthy enough now to return to the wild.
"She's done fantastic," Vickrey said. "She has done physical therapy and swims fine now. Her white blood count is fine and she's eating several pounds of squid a day now."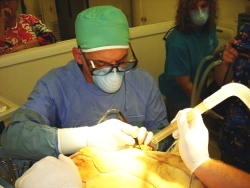 Sandy is ready to come back and hopefully begin living, feeding and breeding in the wild again. In fact, she was scheduled to return this very week, but the hospital staff became concerned that because of the sunny summer weather, any delays or difficulties in the journey could allow her to get dangerously overheated. So, at the last minute, they decided to wait until the weather is a little cooler. Sometime this fall, however, Sandy will come home, courtesy of American Airlines, and the folks at Sandy Point Wildlife Refuge will release her into the Caribbean.