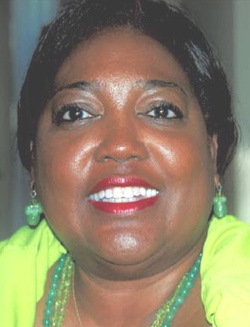 Anna Mae Brown-Comment, a native of St. Thomas now living in Florida, has published her first novel, "A Dawn of Promise," which takes place in the Virgin Islands at the time of emancipation.
"A Dawn of Promise" tells the story of young Karen Johannsen, a Danish girl who travels with her family from Copenhagen to join her father in the Danish West Indies during a revolutionary time in history, the mid-19th century.
The book has been published by AuthorHouse of Bloomington, IN.
According to the company's news release announcing the book, "A Dawn of Promise" is a coming of age story, both for the main character and the islands' slaves who are winning their freedom. The girl's father is right-hand man to Governor Peter Von Scholten who is struggling to maintain a peaceful existence for the plantation society he governs as the winds of freedom for slaves swirl through the Caribbean. Karen finds herself torn between her loyalty to her Danish heritage and her new found love and respect for the slave population she has come to know on the island.
Brown-Comment was born on St. Thomas and, after receiving her bachelor's degree in English at a stateside college, has worked in various capacities in marketing and education in the U.S., Switzerland and the Virgin Islands. Returning to the Virgin Islands in the late 1970s, she taught English literature in the public and private schools and was the first alumna principal of her high school alma mater, Sts. Peter and Paul Catholic High School. She lives in Boca Raton, FL, with her husband. They return to St, Thomas several times each year and still consider St. Thomas "home."
Further information on the book and AuthorHouse are available at the publisher's website, www.authorhouse.com.