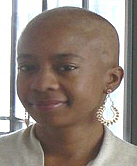 After a strong start on St. Croix, the search for a bone-marrow donor who can help save the life of Khephra Nielsen moves to St. Thomas Saturday.
A one-day bone marrow donor registration drive will take place from 10 a.m. to 5 p.m. Saturday at the Tutu Park Mall, Center Court..
Nielsen, a St. Croix native and an architect employed at the University of the Virgin Islands, was diagnosed in April with acute myeloid leukemia.
"This diagnosis hit us like a ton of bricks," said Nielsen father, Aloy "Wenty" Nielsen.
Nielsen said his daughter spent her 30th birthday undergoing chemotherapy which put her cancer in remission, but she now desperately needs a bone-marrow transplant to help her win her fight for life.
A bone-marrow registration drive last month on St. Croix drew almost 160 potential donors. According to Lillian Sutherland of the Minority Organ/Tissue Transplant Education Program (MOTTEP), it is too early to know if any of those potential donors is a genetic match.
During the registration process, potential donors between the ages of 18 and 60 fill out the paperwork, then take a painless oral-swab test. Members of MOTTEP will be on hand to answer any questions about the donating process.
Registration is free to minorities, who are underrepresented in the donor lists. Caucasians are asked to pay a $52 registration fee. According to Sutherland, minorities make up only 20 percent of the names in the database of donors.
The body's bone marrow, the milky-white substance in the center of bones, produces the white and red blood cells and platelets needed for life. Leukemia is a type of cancer that affects the marrow, making it unable to produce those cells needed to fight off infection and carry nourishment throughout the body.
Treatment for leukemia typically begins with chemotherapy, which destroys the bad cells but also destroys any good marrow cells. The body will create new marrow to replace the old, but there's a chance that the new marrow will also have leukemia. By transplanting fresh, healthy marrow from a donor who is a genetic match, the chances of survival are significantly increased.
There's probably a donor out there who's a match for Nielsen, but that person isn't registered with the national marrow-donor database.
People who register will end up on the donor database and, if a matching person who needs marrow is found, may be asked to donate.
When a person is found to be a match, he or she is not forced to donate, Sutherland said, and all costs of bone-marrow donations are typically paid for by the insurance of the patient who is to receive it, including the transportation of the donor to the site.
Marrow donation is not a surgical procedure, and is performed under anesthesia. Healthy marrow is withdrawn through a needle inserted into a donor's bone. For a few days afterwards there will be some soreness.
Paul and Glenn Nelthropp, relatives of the Nielsens, are organizing the St. Thomas-St. John registration drive Saturday. They are pleading with individuals to take the test and register.
Limaris Delgado of the Puerto Rico-based National Marrow Donor Program, will be on hand to facilitate the donor drive. She is encouraging those wanting to learn more about bone marrow donation to visit the website, www.marrow.org which offers the option to register on line.
Further information can be obtained by calling the National Marrow Donor Program at 888-420-9801, USVI MOTTEP at 340-642-2623, or Tsajai Nelthropp at 340-344-8798.