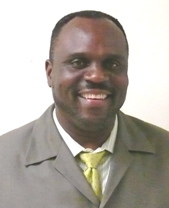 Gregory Calliste, chief executive officer of Juan F. Luis Hospital, is stepping down by the end of the year to take a position in New York City.
Calliste informed his staff Tuesday, and Wednesday evening met with the St. Croix District Governing Board of Director's of the Virgin Islands Government Hospital and Health Facilities Corporation, the full name of the hospital's governing board, to discuss the move.
Those discussions were held in closed, executive session on the grounds they are personnel issues. But when the meeting left executive session, chairman Carmelo Rivera said they spoke about Calliste's decision.
"We discussed the transfer of the chief executive and we gave our congratulations to Dr. Calliste," Rivera said. "We talked about the details of the transition and how to make it a smooth process. We also discussed the timetable. Dr. Calliste will be on board until the end of the year, but will step down from running the hospital the middle to end of October."
Rivera said the board and hospital was sorry to see Calliste leave.
"In this business, in positions like that held by Dr. Calliste, you receive offers, and sometimes an offer is just too good to refuse and a person has to do what is right to advance their career," he said.
Calliste and Rivera said the board would soon begin the process of selecting first an interim CEO and later a permanent replacement, but no decision has been made yet.
"I'd just like to reiterate the only reason I am leaving is another really good offer," Calliste said. "I've had an excellent relationship with the board over the last few months and I am saddened to be leaving. I would like to see work continue with the improvements we've begun."
Calliste's relations with the board have been rocky at times. In February 2008 the board terminated Calliste, then re-instated him when hospital employees protested and some challenged the legal validity of the board meeting at which Calliste was ousted.
Calliste wouldn't say what the new job is, but said he would issue a statement in the near future.
"It is a job in New York City is all I can say at this point in time," Calliste said. Calliste lived and worked in New York City before moving to St. Croix to take the post at Luis Hospital in 2004, he said.