Apparently there's nothing you can't make with mangoes.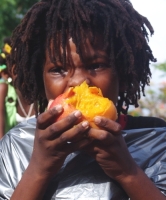 That's certainly the impression more than 4,000 visitors got Sunday at the St. George Village Botanical Garden, home of the annual Mango Melee.
There were mango sauces, mango wines, mango fritters, mango cakes, tacos and burritos with mango salsa, mango chutney. If you can imagine it, it was probably there somewhere on the garden grounds, with a mango in it.
There were plenty of mangoes in the 10 kids who were lucky enough to enter the mango-eating contest. For the kid contest, the competitors, using both hands, ate their way to glory, working their way through five whole mangoes, peels still on, in a race to see who could finish first.
That honor, and the $50 prize that went wth it, belonged Sunday to Kevin Richards, followed closely by Abbiye Tafari.
For the adult contestants, the stakes and the difficulty were raised. Five grownups traded their dignity and a clean face for the chance at a $100 first prize. All they had to do was plow through 10 mangoes — using only one hand. All five adopted the same technique, grabbing the mango with their one free hand and peeling with their teeth before digging into the fleshy mass of the fruit beneath, letting juice and pulp run down their faces and arms as the audience crowded around, screaming encouragement and laughing.
But when it was all over, Olubayo Kaza wasn't laughing, just grinning a pulp-glazed smile as he accepted the prize money.
Kaza said he hadn't done anything special to train for the event, although he admitted, "I didn't have breakfast today."
To hammer home the theme that mangoes go with — and in — anything — the "Mango Dis, Mango Dat" contest brought out creative cooks displaying their favorite mango recipes.
Chef Daniel Theme was a double winner, taking home the top prize for both mango salads and sauces and mango "everything else." Second place for salads and sauces went to Lindsay Houston, and Laura Ballard took home second for Everything Else.
In the sweets category, first place was a tie between Cynthia Holmes and Sue Lakos. Drinks was won be Vanessa Forbes, with Leo and Virginia Dikinis taking home second place.
But mangoes, while the centerpiece of the day, weren't the only reason to visit the gardens Sunday. Mango Melee also included a large arts-and-crafts show featuring everything from handmade soaps and tye-died shirts to jewelry, sculpture and shells.
In the Bodine Visitors' Center, melee-goers could take part in demonstrations on nutritional benefits of tropical fruits, making calamondin preserves, making local fruit juices and tasting of tropical fruit juice and mangoes.
Entertainment was provided by DJ Johnny and the Rising Stars Youth Steel Orchestra. After the mango-eating competition the lawn was cleared and hundreds — maybe thousands — gathered together to perform the Electric Slide.
There were plenty of activities for youths, as well. And amid all the mango products, it was possible to find a little of the old-fashioned carnival food, including cotton candy that did not appear to have any mango in it.
Something for organizers to work on before next year's melee.