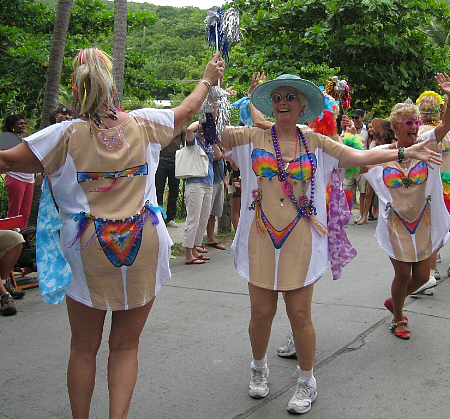 While everyone came to see the troupes and floupes wend their way through the streets of Cruz Bay at Saturday's July 4th Celebration parade, they also were out to catch up with friends old and new.
"I came to meet friends and family," Theresa Worrell of St. John said from her post near the post office.
Others came to explore their roots. Ann Marie Floyd of the Bronx, N.Y., has family on St. Thomas. Sitting next to her aunt, Jean Armstrong, as she waited for the parade to start, she said that this was her first visit to St. John.
"Yesterday I went to Trunk Bay. It was absolutely beautiful. I would say it was paradise," she said.
It was a good day for visitors, Tourism Commissioner Beverly Nicholson-Doty said from her post at the reviewing stand. Indeed, there were tourists aplenty scattered up and down the parade route that ran from the V.I. National Park ballfield past the waterfront to Winston Wells Ballfield.
"My favorite part is when you feel the beat inside you," Kati Smith of Lancaster, Ohio said, referring to the pounding of the amplified music.
Smith was with her mother, Jill Horn, visting family.
A ferry boat filled with visitors from Puerto Rico pulled into the Creek.
"We came for the fun," explained Diana Rivera of San Juan.
The locals were out too, mixing and mingling with folks they hadn't seen for a while. St. John resident Gary Emmons, who this time last year was on his way out of St. John for a life on the mainland, was back.
"It feels great to be here. St. John is a wonderful place," he said, sitting with friends across from the Creek.
Former resident John Garrison, who now lives in Florida, was visiting and joined up with the St. John chapter of AARP to march in the parade. The group was pushing for improved health care for seniors.
And St. Thomas resident Ronnie Lockhart was there in his American flag shirt.
"It's traditional, and I have to be here if only for a few hours," he said.
The parade got off anywhere from a half hour to an hour late, depending on who was talking, but with more than 40 troupes, floupes, royalty, majorettes, and steel pan groups, it took the better part of the afternoon to finish.
There were entries from both St. Thomas and St. John, and even one from Winchester, Tenn. Paula Hill, who runs Paula's School of Baton, came with 11 twirlers and their families to a visit to the Westin Resort and Villas and to participate in the parade.
"I found it on the Internet," she said when asked how she came to know about St. John's parade.
Gifft Hill School students came out in force in costumes that represented an under-the-sea theme.
"The children did all their own artwork. Everything is recycled," Gifft Hill School organizer Michelle Wicklund said.
They were accompanied by Elizabeth Putnam's dance troupe, who performed a tribute to the late Michael Jackson with his song "Billie Jean."
The Middle Age Majorettes twirled and strutted their way down the street. The Love City Leapers jump-rope group was on hand to show off their tricks and the Love City Pan Dragons steel pan group entertained from their trolley.
While food and drink were flowing from booths set up along the waterfront and in the Village, Starfish Market passed out complimentary bottles of cold water to parade-goers. If folks wanted something a little stronger, St. John Brewers served up free cups of cold beer from its float.
It wouldn't be a parade without government officials working the crowd. Both Lt. Gov. Gregory Francis and Gov. John deJongh Jr. mixed and mingled as they made their way along the parade route.
"It's nice to see the amount of troupes and the amount of tourists," the governor said. "Everything is going well."