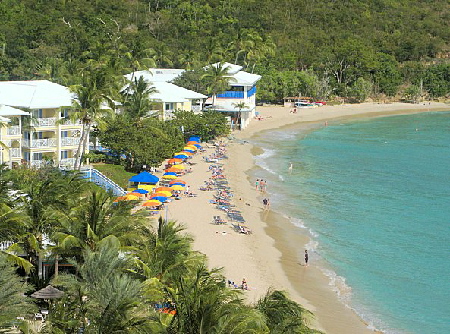 Morningstar may very well be one of the busiest beaches on island during season. With St. Thomas' largest hotel perched on the cliffs above it, and the Morningstar Villa complex centered right on the beach, there's never any shortage of vacationers looking to lap up some sun. Just about everything you can reasonably associate with a beach is available for rent or sale.
Adventure Factor: Low to Medium.
Shade Factor: High but it comes at a price.
Ocean patrol: Morningstar is always at least a little rough in comparison to other island beaches, but keep in mind the water surrounding most of St. Thomas is incredibly tranquil. Some rocks along the eastern edge of the beach offer an easy snorkel experience — unless it's rough.
Food and Drink!: A hotel beach restaurant/bar.
Peace Factor: Medium.
Sports: Snorkel gear for rent at the beach hut. Kayaks and basic windsurfing gear are also for rent.
Family Factor: Medium to High.
Extras: Hair-braiding and henna tattoos are available right on the beach.
Getting There: Easily accessible by car or taxi. If you're getting there on your own: drive as if you're going to Marriott Frenchman's Reef Hotel and make your first left down the hill just after you enter the property. No dollar ride.