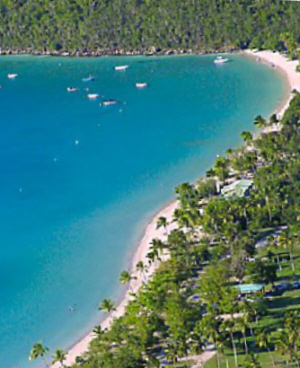 Magens Bay hardly needs an introduction. For decades the mile-long, double-crescent paradise has been revered as one of the most beautiful beaches on the planet. This is as true today as it has ever been. It is a spot prized by tourists and locals alike for its nearly surreal perfection and if you can only go to one beach while you're here – which would be a terrible shame – pick Magens. Pick Magens. Pick Magens.
Adventure Factor: Medium to High.
Shade Factor: High.
Ocean patrol: Tucked behind miles of protective peninsulas, the water of Magens Bay is often calm to the point of tranquility. The shore slopes gradually into the sea making it an ideal spot to bask in the warm shallows. On the other hand, if a swell hits from just the right direction, rolling waves can make for some excellent body surfing.
Food and Drink!: A concession serves basic breakfast and lunch dishes, and one of the best beach bars on the island will keep you refreshed. If you can't be bothered to rise from your beach blanket, cocktailers work much of the shoreline and will deliver drinks with a smile – as long as you don't forget to tip!
Peace Factor: Medium to High.
Sports:Whatever your water fancy, you'll find it for rent at Magens. Glenn's Beach Toys has everything you need.
Family Factor: As High as it gets!
Extras: If it can be done on a beach, it can be done at Magens. The beach has two public buildings with restrooms, changing areas, foot-baths and outdoor showers. There are also large pavilions available for rent if it's a party you're looking for. And for hikers there is an amazing trail accessible from where the beach access road ends, at the far side, past the last bath house.
Getting There: Located deep in the north side of St. Thomas, you'll need to take a taxi or a car.