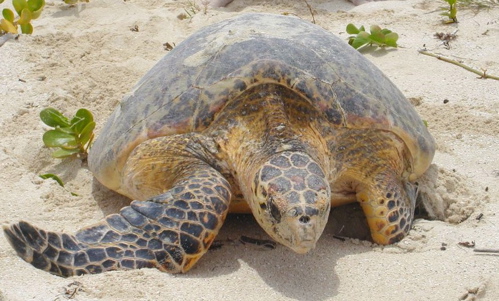 Peak sea turtle nesting season is coming up and folks at St. Croix's Buck Island Reef National Monument and Sandy Point National Wildlife Refuge are geared up to study and protect the endangered creatures.
The nesting season for the leatherback, green, loggerhead and hawksbill sea turtles that nest in the Virgin Islands runs from March to December every year, with different peak periods for different species. There are several key nesting areas on St. Croix, including Buck Island Reef National Monument, Sandy Point, and St. Croix's east end beaches. Due to shrinking worldwide populations, all sea turtles are protected under the U.S. Endangered Species Act.
This is the 22nd year of research by the National Park Service on Buck Island sea turtles and the 28th year of continuous study and conservation by U.S. Fish and Wildlife Service at Sandy Point. They gather similar information but with different areas of focus.
"Our leatherback conservation and research project is the longest leatherback project in the world," said Claudia Lombard, a wildlife biologist working at Sandy Point. "We've been collecting data for 28 years and have the largest database."
Both Fish and Wildlife and the Park Service try to tag every nesting mother, with either an old-school metal flipper tag, or a more modern tiny transponder inserted into the turtle. They collect data on number of turtles laying eggs, how many mothers returned, number of eggs laid, how many hatch, and so forth. With 28 years of data from Sandy Point, Fish and Wildlife has a good picture of how local leatherbacks are doing.
"Our population is actually increasing," Lombard said. "This year, we broke the record, with the largest number in our 28 years here. That is 202 nesting females which means approximately 1000 nests."
Each nesting turtle usually digs and lays five to six nests per season, but only returns to nest every two or three years, she said.
While the local news is good, it is only a drop in the bucket.
"If you look globally, and these are global species, found in every sea and nearly every continent, their populations are decreasing," she said. "Ours is increasing, but 28 years ago you could count the nests on your fingers and toes. Two hundred is tiny. And many other nesting locations went from tens of thousands of laying females down to hundreds."
Over at Buck Island, biologist Ian Lundgren is studying how to increase the number of eggs that hatch. Lundgren is pursuing a master's in marine science from the University of the Virgin Islands.
Both organizations relocate what they've determined are imperiled nests. Past research has shown that nests dug too close to the high water mark or in places near guts where there is a risk of heavy erosion in a storm often are washed away and destroyed. So they dig up these nests, dig a safer hole and rebury the eggs.
"My research is focused on when you move a nest, how and where do you put it to get the most successful hatch," Lundgren said. "In general, with relocating a nest there is a drop in hatch success … of about 14 percent. But if we didn't move the nest, it would be a 100 percent loss."
Data from Sandy Point are used by researchers elsewhere too.
"Currently, our data is being analyzed by the U.S. Geological Survey at Patuxent Research Refuge," he said. "They are doing some modeling to try to determine things like survivorship between nestings and remigration intervals, and modeling scenarios to help us determine how we can get the most bang for the buck from our research; how to reduce the hours and days without losing data."
Buck Island, Sandy Point and Jack and Isaac bays are patrolled nightly both to protect nesting turtles and to continue long-term research on these endangered and threatened sea turtles in the U.S. Virgin Islands.
If you encounter turtles nesting or hatchlings on any St. Croix beach, the Park Service and Fish and Wildlife want you to remember all sea turtles are protected, not just the ones in parks. Beach goers need to follow all beach regulations, especially regarding fires, dogs and tent stakes, to keep from damaging nests. Boat operators should drive cautiously. Sea turtles rise slowly to breathe and it takes them several seconds to dive to safety when they hear an approaching motor boat, according to the National Park Service. Shield the lights. Bright lights will disorient nesting adults as well as hatchlings. Watch from a distance and don't use flashlights or a camera flash. If you find an adult or hatchling in distress at Buck Island, you can call the National Park Service Resource Management 24 hours a day at (340) 277-6863, or you can call the National Park Service headquarters in Christiansted at (340) 773-1460. Issues at Sandy Point National Wildlife Refuge should be directed to the U.S. Fish and Wildlife Service at (240) 773-4554 and for other locations, call the V.I. Department of Fish and Wildlife at (340) 643-0800.
Although Sandy Point is closed to the public to protect nests until September, groups can arrange a night to watch the turtles hatch with Fish and Wildlife supervision by calling the Sandy Point Wildlife Refuge office at (340) 690-9451.