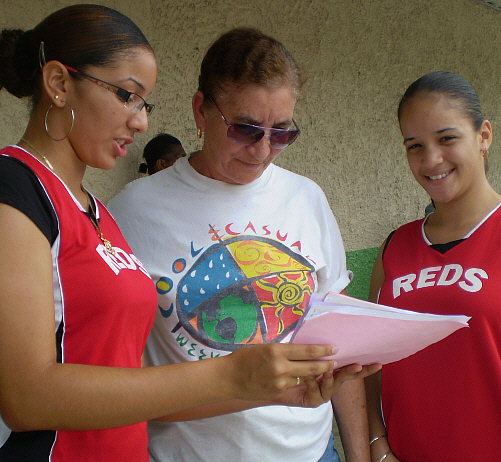 Cardboard boxes and large plastic containers were literally overflowing with bags of healthy food donations from good Crucians on the sidewalk at Orange Grove Pueblo and Food Town Supermarket Saturday during the National Health Care Day of Service.
Residents out doing their grocery shopping were warmly greeted at store entrances by volunteers and given lists of suggested healthy foods to be collected and donated to Catholic Charities Soup Kitchen, My Brothers' Table and Queen Louise Home for Children.
Shoppers generously gave five-pound bags of flour, boxed macaroni and cheese, cans of beans, spaghetti sauce and pasta, large bags of cereal, canned corned beef, cans of tuna and more.
People went in and out of the stores with their wallets open or bills in fists and asked if the volunteers accepted cash donations, which they happily did.
A donor who didn't want to be identified said he worked at Hovensa and followed the inspiration of a manager who was always very involved with Queen Louise Home.
"He was an inspiration and encouraged us to help, which I am always happy to do," the donor said as he gave money. He also gave words of encouragement to the young people manning the collections. telling them to keep volunteering and doing what they can to help the community.
Even though it was getting hot outside Pueblo, the volunteers were still happy to be doing their part in the food drive
"I'm happy to be able to help the kids at Queen Louise Home so they can have healthy meals," said Rosanna Ascencio, a 16 -year-old volunteer from the Reds softball team. Her coach, Reuben Mercada, said he always encourages young people to help out the community.
"This is just one of the many ways we can help the community and give back in some way," said Mercada.
At Food Town, three young volunteers said Leah Williams, a drive organizer, was their inspiration to help with the drive.
"Ms. Williams asked me to help and I couldn't say no," said Lasiba Knight, a University of Virgin Islands student. "She is such an inspiration."
Deidre Graham, a student at Country Day School, said she volunteers at My Brothers Table and sees the need for the donations — so she told Williams, "Of course I'll help with the drive."
Organizing for America, a project of the Democratic National Committee, spearheaded the National Health Care Day of Service in support of President Barack Obama's quest to reform health care. Obama's priorities are to reduce rising health care costs, provide affordable health care for all Americans and guarantee choice in keeping or finding a new doctor or insurance. Local community events were part of a nationwide effort to move health care reform through political bureaucracy.
The food drive was sponsored by the office of Sen. Nereida "Nellie" Rivera-O'Reilly.
"The response was marvelous," said O'Reilly. "There was such an unbelievable outpouring of support it made the hair on the back of my neck stand up.
"We got so much food in the four hours at the six stores it is just unbelievable. We are so grateful to the community for giving so much. It's like a big grocery store at my office."
She said they didn't expect so much. "The groups and organizations we are giving the food to will be so excited," O'Reilly said, the sound of that excitement in her voice.