Local news — St. Thomas
Food Fair Flourishes With Bounty for All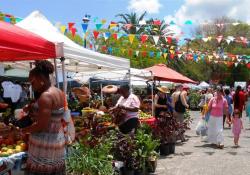 As dawn broke Wednesday, Emancipation Garden was bustling with activity in preparation for the island's annual feast day. Cooks were already setting up their pots, laying out their offerings on brightly colored tablecloths. Vendors arranged their crafts and farmers unloaded their fragrant produce. Trucks pulled into the area offering everything from ice cream to hot dogs and popcorn.
But make no mistake these last two menu items couldn't compete with the seemingly endless bounty of homemade wonders and ripe produce on display around the park. The heady aromas – basil, thyme, frying chicken – drew one in and didn't let go.
The V.I. Carnival Committee Cultural and Food Fair is the time to follow your nose.
You simply can't go wrong. Tables were piled with pots of crab and rice, kallaloo, roast pork, mutton, all sorts of pates – beef, salt fish, chicken – conch, fried fish and johnnycakes. Not to mention the fried chicken, curries, rotis that beckoned.
And that's not even counting the desserts – guava berry tarts, Vienna cake, tamarind, apple and mango tarts, gooseberry preserves and, of course, maubi to wash it down with.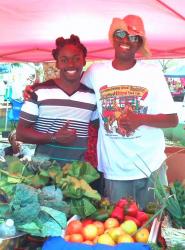 Then there's the pride of the market: the produce. Booth after booth was bursting with fat bunches of kale, spinach, bok choy, lettuces, peppers, tomatoes, lemon grass, lime trees and flowering plants.
Veteran farmer Charlie Leonard, a traditional figure at the Saturday market and produce winner several times in the last few years, said he'd gotten about two hours of sleep. "We have to be here so early from Bordeaux," he said, adding that he and daughter Britany arrived about 5 a.m. Along with his bounty of produce, Leonard also had eggs, honeys and hot sauces lined up.
Just down the aisle Benita Samuel, her son Lakota and cousin Jamiel Martin were selling everything from pumpkin to bok choy, bright, fresh and beautiful.
Next the Gladys Abraham Elementary School Garden Club, which has taken first place for produce in two of the last three years, set up shop under the watchful eyes of garden advisor Vincent Henley and Lisa A. Hassell-Forde, the school's principal.
Surrounded by youngsters who were professionally explaining their flowering produce to fairgoers, Henley and Forde spoke about the garden club.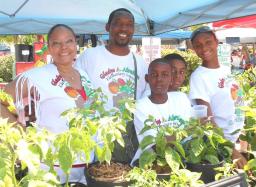 The garden club has blossomed, so to speak, under Henley's care, Forde said. "We're up to about 90 students now from 50." Forde said the garden club helps the youngsters learn responsibility, emphasizing "nutrition, economics and entrepreneurship." The club sells plants and produce on the school grounds daily.
Henley said that as soon as the Saturday market moves back to Market Square, the garden club will be selling produce there year-round.
The club has even developed a following at the fair. "When we got here this morning there were 10 ladies who had come for their spinach," Henley said. "I wanted to save some for the judges who hadn't come around yet, but they said they couldn't wait."
All around Emancipation Garden, other locals enjoyed what many said was their "once a year" indulgence. For George Jesner it was stew conch. Ann Barnard said it was roti. Barbara Young sought passion fruit juice and Sandy Smith was patiently awaiting stew mutton. Jill Anderson and this reporter left, alas, bereft of pumpkin johnnycakes.
Along with all the culinary treats, a number of local entrepreneurs sold handmade creams and lotions, woven baskets, jewelry, dolls and just about anything else to suit your fancy.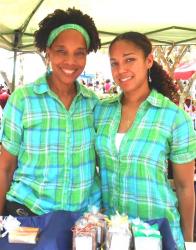 Fair Arts and Crafts winner Acquannette Chinnery was selling her imaginative line of homemade soaps, creams and hair products. Helping at her side was her daughter, Ronaqua Russell, who is visiting after just graduating from the Coast Guard Academy.
This year's fair honoree was Ann Murrine Henry of "Ann's Savory Delights." Henry has been bringing those "delights" to the fair since 1985 when her friends encouraged her to share her baking with the community. It's been a family affair ever since, with everyone from grandchildren and friends in the act.
In the ribbon cutting ceremony, Gov. John deJongh Jr. was joined with Lt. Gov. Gregory Francis and more Carnival "royalty" than you could shake a scepter at.
The Ulla Muller Cultural Dancers brought a light touch to the festivities, along with the St. Thomas Heritage Dancers and "We de Yah Cultural Dancers" from St. Croix. The St. Thomas All Stars Steel Band kept things lively up the road where the fair extended to Main Street.
Fair winners:
Plants & Produce - Vincent Henley's Gladys A. Abraham Garden Club
Arts & Crafts - Acquannette Chinnery
Cakes and Pastries - Natasha Wright
Special Food (potato stuffing) - Lorna Jackson
Best Dress - Dorothy James