Local news — St. Thomas
BREAKING: V.I. Police Commissioner Resigns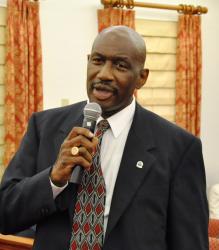 Police Commissioner Henry White Jr. tendered his resignation Tuesday, after just more than one year of service and just shy of one year after his official confirmation to the post, Government House announced Tuesday evening.
"Commissioner White today tendered his resignation effective Feb. 15, 2013. I spoke with Commissioner White earlier in the day, accepted his resignation and thanked him for his service to the VIPD since November 2011," Gov. John deJongh Jr. said in the announcement.
No reason for the resignation was given. Putting a positive spin on the news, deJongh said the resignation, along with the continued vacancy of the post of assistant commissioner, means he "will have an opportunity to transform the top leadership in the Virgin Islands Police Department so that we can better meet our critical challenges in law enforcement."
White was confirmed to the post of commissioner Feb. 8, 2012, after serving in that position in an acting capacity since November of 2011.
Raised by a single mom in Newark, N.J., White has more than 30 years experience in law enforcement. He joined the Navy in 1963, and it was while on duty in the Caribbean he first came to know the U.S. Virgin Islands, he testified.
White joined the East Orange Police Department in New Jersey in 1968, where he served for eight and a half years. From 1967 to 1998 he worked for the FBI as a special agent, a teacher in its training facility in Quantico, Va., and at other posts. While program manager for the FBI's Civil Rights Enforcement program, he taught a block of courses at the FBI's National Academy in civil rights training regarding the use of force. During his confirmation hearings White said he helped coordinate for the FBI in the Rodney King police brutality case.
White retired from the FBI in 1998 and moved to Georgia in 2000. In 2003 and part of 2004, he served as chief of police to Henry County, Ga., the first black police chief in that county's history, overseeing 208 sworn officers. Since then, he has been a law enforcement consultant for the FBI and other organizations.