Local news — St. Thomas
Students Celebrated at UVI's Residence Hall Ribbon Cutting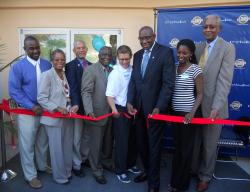 It was all about the students Thursday afternoon as they shared their excitement with faculty, government officials and residents at the ribbon cutting for the University of the Virgin Islands' new residence hall.
Construction began in November 2011 for the four-story, eco-friendly residence building which houses up to 100 students. University President David Hall said he was excited about the opportunities the new, high-tech building will bring to students and the school.
"We're celebrating our past and creating the future with this modern building," Hall said. "This state-of-the-art building is a shining example of how we're creating our future."
The 37,000 square foot residence hall boasts several amenities for students such as air conditioning, a technologically advanced seminar room, wireless Internet and a million-dollar view overlooking the Caribbean Sea.
Students said they were happy with the building but were thrilled that there's no longer a waiting list for housing.
Resident assistant Joel Lee said he was on the waiting listed when he first arrived at UVI. He shared his gratitude that potential students will not have to face that obstacle and hoped the abundance of housing will encourage more people to attend the university.
Hall's special assistant, Haldane Davies, said the new building and more space for potential students will help UVI achieve its goal of becoming a destination university.
Alexander Moorehead Jr., chairman of the UVI board of trustees, said the building corrects a longstanding housing shortage. "We planned a concept and brought these amenities to students," he said. "We made UVI competitive with other universities."
Moorehead said UVI received an increase in debt service from the local government and completed the project in a timely manner and within their budget.
West Hall is only the first of several projects taking place in the coming years, speakers said, including a multi-purpose, indoor recreation center and assembly area on St. Croix.