Local news — St. Thomas
85 File to Run for Legislature's 15 Senate Seats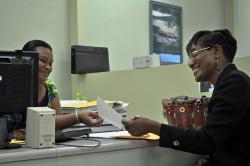 The deadline for candidates running for office this election cycle arrived at 5 p.m. Tuesday.
Unlike years past, there was no chaotic, mad dash to the finish line. Matter of fact, things at the Elections offices on both St. Thomas and St. Croix were what the islands are supposed to be about – tranquility.
"I'm grateful it was not as chaotic as the past," said James Weber, deputy supervisor of elections on St. Croix. "I'd personally like to thank the candidates for coming in on time."
Weber said because of budget cuts his office was two persons down from last year. So it was a blessing in disguise that between 4 and 5 p.m., only seven people filed to run for the offices up for grabs.
In total, 71 petitions were filed on St. Croix, three more than last year.
Asked if no rush on the last day was what he expected, Weber quipped, "It's hard to predict adult, human behavior."
The atmosphere at the end of the work day at the Elections Office on St. Thomas was like any other day. No rush, no commotion.
Deputy Supervisor of Elections Mable Maduro said 30 people had filed petitions "at the last minute" on Tuesday, but had come in over the course of the day. Only two potential candidates were still at the office as the clock struck 5 p.m.
Maduro said 68 people had filed petitions for all offices in 2010, compared to 97 this year.
Among the offices that will be decided on Election Day, the big prizes are the 15 Senate seats. Of the seven to be decided on St. Croix, 31 people have thrown their hats into the ring.
Over on St. Thomas for their seven, 49 people petitioned to run. For the one seat at-large, meaning the person must be a resident of St. John, five were going to campaign.
Arthur "Sunny T" Brown, registered with the Independent Citizen Movement party, was one of those who filed on St. Croix Tuesday. Never having run before, Brown said his more than 30 years experience as an educator, national guardsman and policeman make him more than qualified.
"I'm tired of the people taking advantage of my people," Brown said. "I am ready for my people to take back what is rightfully theirs."
"My people are suffering," Brown said. "The people of the islands are suffering. It's necessary that people with voices go in and I'm the people's voice."
Gwendolyn Hall Brady, legislative director for the retiring Sen. Usie Richards, filed as a Republican candidate Tuesday and was the very last person to enter the Senatorial contest.
Brady said she wants the job because she wants to make a difference, to get businesses to invest in St. Croix and, ultimately, to create jobs.
"I'm very concerned about the very high unemployment rate on St. Croix," Brady said. "We're now exceeding 15 percent. And with that you see that it has greatly affected the revenue base of St. Croix."
She said the Hovensa closing has had a "domino effect" that has plagued businesses across the island and that whomever Crucians elect, that person needs to look for "measures that can serve as feasible, revenue generating sources."
Not everyone filing Tuesday was after a Senate seat, though.
Emmett Hansen, the current democratic state chairman and a former senator from 2001 – 2004, is trying to become the national democratic committeeman.
"Most people are running for the positions with a paycheck," Hansen said. "I'm not."
He added people should vote and get involved because they need to understand exactly how government works. If they don't, he said, then they can't possibly understand how to fix the problems.
"We're very good here at endorsing people, but nobody ever mentors anyone," Hansen said. "Rather than sitting in the same seat, I'm looking at moving onto a position where I can do more mentoring of the persons coming in and the persons involved in the political process and those who want to get involved."