Local news — St. Thomas
WSTA Counts More Than 62 Years of a 'Good Ting'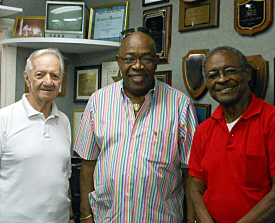 The venerable radio station WSTA is celebrating 62 years as the pulse of the Virgin Islands community. Not with hats and balloons – owner Addie Ottley says he'll put that off until the 65th anniversary – but with the knowledge of a job well done.
In a statement this week, Gov. John deJongh Jr. called WSTA "a premier source of news and history that has shaped the lives of generations of Virgin Islanders since 1950."
Since 1984, waking up with Addie's Morning Show has become a tradition in the community. Got a birthday? Tell Addie. Got a fundraiser? Tell Addie. Driving over too many potholes? Tell Addie. You get the gist.
The names of WSTA veterans tumble out like the building blocks of the radio community – founder Bill Greer, Ron deLugo a/k/a Mango Jones, Lee Carle, Irvin "Brownie" Brown, former owner Len Stein, Leo Moron and his old timers, Bob Wilmer's sports, Peter Ottley's music.
The station had its beginnings in 1950 when veteran radioman William Greer started the minuscule station as a retirement hobby in a nondescript little building on a Frenchtown back street – a building, as it turns out, that would house the station for the next 25 years.
After wiring most of the radio stations in Puerto Rico, Greer filed the first ever commercial application for a 50-watt station. He built his own transmitter by hand, made one notable hire, deLugo, and was off and running.
In 1959, Len Stein and his wife, Josephine, moved from Guam when the radio station Stein worked for there bought WSTA Radio on St. Thomas. Stein formed the group of investors that later bought WSTA.
In 1984, Addie Ottley, under the company name Ottley Communications Corporation, bought the station. "It was my dream," Ottley says today. "Since I was in high school, I'd always thought how nice it would be to run a radio station."
"In fact," he says with no irony, "in my Sts Peter and Paul High School yearbook, it was written 'Addie's voice will be heard around the world.'"
Well suh! "Right now," Ottley says, while holding off on a celebration, "we're working on upgrading the studio facilities and upgrading the equipment."
This is the equipment that has kept WSTA on the air through several storms. Boosted to 1000 watts of stereo power in 1984 along with the foresight to build to withstand nature's force, and satellite communications, WSTA was the only station on the air 24 hours through hurricanes Hugo, Marilyn and Lenny.
The station is rife with life and memories, befitting its 62-year history. Here's a few from the station veterans giving a notion of the station's character.
Veteran newsman Lee Carle, fresh from New York, tells this story of when he joined the station in 1954.
"I found Ron, then known as Mango Jones, now known more widely as former Delegate to Congress, barefoot, drinking a beer and listening to music in the little Frenchtown quarters," Carle says. "He looked up and told me I'd be doing the six o'clock news. I asked where the news ticker was, and he tossed me a copy of the New York Times, and told me to read it. I told him the paper was two days old.
"Nobody cares," was the reply.
Then, there's Irvin "Brownie" Brown's introduction to radio some 47 years ago under the tenure of Len Stein. Already a musician, comedian and cab driver, Brownie was playing with Milo and the Kings when Milo suggested he try out for a spot on the radio.
"I knew nothing about radio," Brown says, with characteristic aplomb, "but I told Len Stein I could do it, and he hired me.
"However," Brown says, "there were problems. Nobody liked me. They called the station and said I couldn't speak proper English. Well, I'm a Savernero, and that's how I talk."
Stein had the foresight not to let go of a "good ting," Brown's classic signature.
"He told me just to do my own thing, and I did. I didn't want to do politics, or a call-in show. I wanted to reminisce about old times. And that's what I did sometimes with others, and with Walter. Now Walter will say things I'd never say. Never," Brown says of his alter-ego. "Walter's a 'good ting.'"
The legendary Stein also hired Alex Randall, the good news guy. "It was right after Hurricane Marilyn," Randall says, "and I had no roof on the house, and I heard Addie talking with then Gov. Schneider about how bad things were, and I thought, I can do something about this. I had a solid radio background, so I walked into the station and told Len Stein I'd been on the Voice of America, and asked what I could do to help."
"We don't need any help," Stein said.
"So, I went back the next day with the same question and got the same answer," Randall says.
"So, I went back the third day," he says, "and Stein said, 'Ok, you've been here three days in a row before 8 a.m., sober. Let's talk.'"
Randall continues, "So we talked about what was needed and Addie breezed in. Len told Addie he'd hired me and asked him what I should do. Addie said 'can you do something that doesn't sound like the police blotter? Can you talk about what's going right?'"
And that's how good news was born.
"Since it was right after Marilyn, WAPA was struggling to put up utility poles, but folks didn't think it was fast enough, so I started a daily pole countdown. On the first day, I got the best call ever from somebody who said the news was like a breath of fresh air. My experiment worked then, and it's still working now 17 years later.
"People love to hear good news," Randall concludes.
And WSTA remains a "good ting."
Related link: http://www.wsta.com/