Local news — St. Thomas
Arrest Warrant Issued for Fugitive Realtor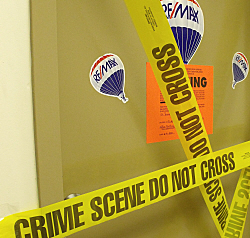 Once the headquarters of the largest real estate brokerage on St. Thomas, the doors to RE/MAX Dream Properties in Lockhart Gardens were closed and locked Friday, sealed with bright yellow police tape that read, "Crime Scene. Do Not Cross."
Rosemary Sauter-Frett, the owner of the brokerage, is being hunted by local authorities, and if she has fled the territory could be the target of the FBI.
A V.I. Superior Court magistrate issued a warrant for Sauter-Frett's arrest Friday after local real estate agents reported that checks worth tens of thousands of dollars drawn on the RE/MAX escrow account had bounced in recent weeks. Closings have failed and clients are asking tough questions.
The St. Thomas Board of Realtors issued a blunt statement on Wednesday warning members not to deposit money in RE/MAX Dream Properties accounts.
Several local real estate agents, some of whom worked for Sauter-Frett at RE/MAX, filed complaints this week with the V.I. Department of Justice Special Investigations Division and White Collar Crime & Public Corruption Unit, claiming that between $1 million and $2 million that should be in Sauter-Frett's escrow accounts are now missing.
The Attorney General's office would not comment on either the details of the charges or on the investigation Friday, except to issue a cursory statement describing how White Collar Crime unit agents inspected Sauter-Frett's RE/MAX office, which "contains confidential and financially sensitive accounting information related to Sauter-Frett's clients," and which "appears to have been left abandoned by Sauter-Frett, whose whereabouts remain unknown."
The office was off-limits Friday, sealed by police as a crime scene.
Local representatives of the FBI said the case had been referred to the regional headquarters in San Juan, Puerto Rico. Special Agent Harry Rodriguez, spokesman for that office, said that according to FBI policy, he could neither confirm nor deny the existence of any investigation.
"However," Rodriguez said Friday, "It is the FBI's understanding that the U.S. Virgin Islands Police Department has issued an arrest warrant for Rosemary Sauter.
"And if the U.S.V.I. Police Department determines that she has fled the jurisdiction of the U.S.V.I and they choose to extradite her, the FBI can certainly assist in affecting an Unlawful Flight to Avoid Prosecution federal arrest warrant," he said.
In addition to the RE/MAX franchise, Sauter-Frett owns Sauter & Associates accounting firm, which was also shuttered Friday, and Poker Haven Bar and Grill, which was open at least until late Friday afternoon. Bartenders, servers and patrons said they had neither seen nor heard from Sauter-Frett in days.
The phone lines to RE/MAX and her accounting firm have been disconnected. Neither she nor her husband, Jacob Frett, have answered or returned phone calls.
According to the statement issued by the V.I. Department of Justice late on Friday, local authorities are "asking anyone who may know the location of Rosemary Sauter-Frett to immediately contact the Virgin Islands Police Department by dialing 9-1-1."
Confidential tips regarding her whereabouts may also be phoned into the Virgin Islands Department of Justice, Special Investigations Division or the White Collar Crime & Public Corruption Unit at 774-5666, ext. 186.
EDITOR'S NOTE: All references to RE/MAX are to RE/MAX Dream Properties of Lockhart Gardens on St. Thomas, not to other RE/MAX franchises in the U.S. Virgin Islands.