Local news — St. Thomas
V.I. Baseball Prospects Shine During Major League Scouting Event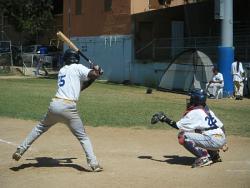 As Jamaine Cotton took the mound at Lionel Roberts Stadium on St. Thomas, Major League Baseball scouts sitting behind the backstop started to talk amongst themselves, with one pulling out a radar gun to clock the first pitch.
Cotton, a freshman pitcher at Oklahoma State University, has already been drafted by the San Francisco Giants, but because he has not yet signed any papers, there is still a chance that another team can acquire him.
And that made Cotton one of the top prospects this week at the Future Stars annual scouting day event, where he joined local pitchers Akeel Morris and Richard White in throwing 90 miles per hour and above. Cotton topped out at 92 for the day, while Morris and Richard came in at 91 and 90, respectively.

"I think I was pretty good," Cotton said after one of the day's scouting interviews. "I'd say it was the best I've thrown in a while. It definitely feels pretty good, especially after all the work I've been trying to do to in school to get to the top."
With a group no larger than 20 on the field, the scouts really got to see each player's overall game. Along with Cotton, Morris and Richards, James Sneed from St. Croix's Educational Complex and Deshaun Hewitt from Charlotte Amalie High School all made strong impressions on the scouts, said Future Stars Director Darren Canton.
"This is probably the best event we've had in the four years we've been doing this," Canton said. "Talent-wise, organizational-wise and scouting-wise -- we definitely had more scouts come out than we thought, so it's been very successful."
Among the Major League teams represented this week were the Los Angeles Angels of Anaheim, the Atlanta Braves, Milwaukee Brewers, San Francisco Giants, Minnesota Twins, Chicago Cubs, Colorado Rockies and the Pittsburgh Pirates.
"I think the talent has definitely been improving over the last four years that I've been here," said Giants' scout Joe Salerno. The team did not come to look at anyone in particular, but Salerno said he saw a few players that could have promising futures. The scouts are looking for the basic five tools, Salerno said, which include body and arm strength, speed, hitting ability, defensive ability and power.
While some showed the scouts they could eventually be five-tool players, others knew they still had some work to do, and hopefully, with another year of playing under their belt, next year's Scout Day would prove a bit more fruitful.
"We're going to continue working hard," Canton said. "And hopefully everyone will continue to come out, support us and provide opportunities like these."