Local news — St. Thomas
Air Guardsmen Honored for Service to Country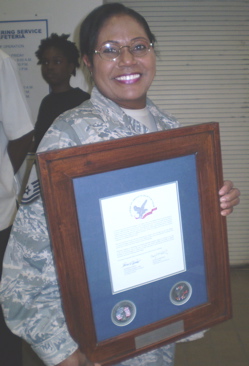 In a short and simple ceremony Sunday, 29 V.I. Air National Guard members were honored and recognized for outstanding service to their country during deployments from Sept.11, 2001 to Dec. 2009.
In the first-ever Hometown Heroes Salute, airmen from the National Guard and their supporters were honored at the University of the Virgin Islands cafetorium.
"I am so excited," said Master Sgt. Pamela S. Depusoir, one of the recipients. "I've waited a long time for this honor. It has been a real pleasure to serve my country."
The national recognition program honors airmen, families, communities and supporters who have significantly contributed to supporting the Air National Guard.
The airmen recognized were deployed in support of Operation Enduring Freedom, Iraqi Freedom, Nobel Eagle, Operation Jump Start and other operations.
Lt. Gov. Gregory Francis, a former Army Guardsman, said the 285th Combat Communications Squadron always performs above and beyond military standards.
"They exceed the expectations of the Air Force," he said.
Major General Renaldo Rivera, adjutant general for the Virgin Islands, said guardsman are a unique set of people who are willing to leave their families to volunteer and to serve the country.
"Our precious assets come from our communities. They protect American lives and property in the homeland, then extend a helping had to others in need," said Rivera.
Airmen received a letter of appreciation framed in rosewood or an American flag folded in a wooden case.
The families of the honored received tokens of appreciation. An engraved rosewood pen and pencil set were for spouses and significant others. The person with the most influence and support to the airman got a medallion and children got a set of engraved dog tags.
"I thank God my daughter made it safely home," said Leona Samuel, mother of honoree Master Sgt. Renee M. Samuel. "She is well deserving of the honor making us so proud of her."
Airmen who were deployed for more than 30 consecutive days, away from their home station in support of a contingency operation were honored.