Local news — St. Thomas
Island Expressions: Dr. Bernard Liburd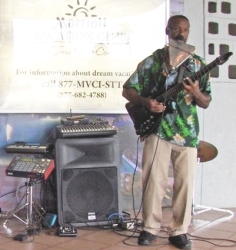 The small, intent man scrambles around, disgorging an entire suitcase full of electric cords like a magician opening up his trunk of wonder, all the while humming to himself as he snakes a large yellow cord to plug in behind the free rum counter at Cyril King Airport.
After about 15 minutes, he seems satisfied with the arrangement, takes his mike, and in the relatively silent airport does a basic sound check, singing, "Welcome, welcome to St. Thomas, we hope you enjoy your stay. ..."
Dr. Bernard Liburd, 62, Calypso king, musician extraordinaire, has welcomed music into his life and the lives of those around him since he sang in the church choir in his native Nevis many long years ago.
Now that he has everything set up -- electric drums, high-hat cymbal, guitar and speakers -- he takes time for a little chat. "Dr. Burd," has been an integral part of the music (read: Calypso) community in the Virgin Islands for years.
He is a household name to anyone with an ear for music and an urge to jump up. His musical spirit has sustained the Calypso soul for more years than most can remember.
"Oh, I must have played at all the big hotels," he reflects. "Bluebeards, the Reef, Sugar Bay, the Renaissance, all of them."
He recalls early times with a big smile.
"Oh, man, in the '60s -- I started the Flippers when I first moved to St. Croix in 1963," he says. "We had a number one hit, 'Love Your Brother and Sister,' and" – he interrupts himself with a big laugh -- "don't forget 'Barna Jam.' That was the St. Croix road march."
Liburd moved to the States for a couple years in the late 1970s.
"I didn't like that at all," he says, "and I came back to St. Thomas then."
Just about everyone who comes through the airport hails Liburd. Nobody's too busy to drop a greeting. Now throngs from a Delta flight begin to march through the terminal. Liburd jumps up to man his post as official musical greeter, complete with unofficial warmth.
"Hey, Dr. Burd, keep it up, man," shouts a passing fan.
Liburd performs his one-man-band act like the Pied Piper, drawing all who pass by.
"Welcome," he croons softly, then with more oomph, "Welcome to St. Thomas."
With a smile and a modest bow to the passing throng, he trills his own lyrics, strums his electric guitar and blows a riff on the harmonica, which is attached to a rack mounted around his neck. Now and then he gives a deft kick to the high hat with his left foot.
"We want you to feel good about St. Thomas," he sings, stopping to greet the small children with lots of smiles, and he gets lots of shy little grins in return.
Now, about that medical degree ....
"I'm a doctor of Barnaology," Liburd reveals with a sly grin. "I'm a Barnaologist. I treat Barnagitis."
To those unfamiliar with Calypso lingo, the barna is a lady's rear end -- the bigger the better.
Liburd and his wife, Bernadine, have raised six children, only two of whom have inherited his musical gene. His son, Kito, writes music, and his daughter, Besha, belts out songs with her father's band, Top Notch. When not singing, Liburd says, she studies.
"She has a bachelor's degree in biology, and she is working on a master's in hospital management," he says.
About five years ago, Liburd branched out, forming the band. He plays electric guitar, with Kenrick Williams on keyboards and vocalists Besha Liburd and Jamal Williams. The band went French last weekend with Bastille Day performances, sounding out into the night at the governor's reception at his hillside residence, Catherineberg, followed by a spirited celebration the next day in Frenchtown.
Liburd relishes his role in the band.
"It makes me feel young," he says. "It lifts my spirits, all the ladies kissing me."
The ladies all seem to have an eye for the young Williams, too, which he resoundingly returns, head back, wide smile, as he croons a ballad.
"He loves music," Liburd says.
He praises Kenrick Williams, with whom he has worked for 40 years.
"He's a major factor in what I'm doing," Liburd says. "He is a genius – he's a total musician, a technician, plays the keyboard, and he writes songs."
You can hear Top Notch on Wednesdays at Paradise Point and onFridays at the Crown Bay Marina Gaming Room, or by keeping track of most any other gig around town.
And on weekends, Liburd holds forth solo at the airport, playing his heart out.
"I won't retire," he says. "They'll have to retire me."