Deaths — St. Thomas
Beverly E. Thomas Dies at 48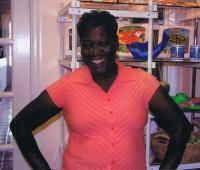 We announce the passing of Beverly E. Thomas, also known as "Bev," who died on Jan. 14 at Roy L. Schneider Regional Medical Center. She was 48 years old.
She is survived by her son, Javonne Thomas; mother, Laynes Francis Weekes; stepfather, Perpaeter Ezekiel Weekes; brother, Chesney Thomas; stepbrother, Steven Weekes; sisters: Cheryl Monique Weekes Mingo and Diana Laverne Weekes; daughter-in-law, Erika Stevens Thomas; brother-in-law, Terrance Mingo; niece, Chynna Breland; nephews: Darnell and Darrell Luke, Teremun Mingo, and Chauncey and Chandler Thomas; aunts: Italis Francis Epps, Rosa Francis, Violet Potter Francis, Hazel Francis Harrigan and Christolyn Francis Ralph; aunt- in-laws: Violet Potter Francis and Anelta Francis; uncles: Gladwin Francis and Leonard Francis; and uncle- in-laws: Keithley Epps Sr. and Rolston Harrigan.
She is also survived by cousins: Gelani Epps, Keithley Epps Jr., Devon Francis, Rohan Francis, Jamal Gilead Cornell Hackett, Devin Harrigan, Philmore Haywood, Everton Ralph, Ulrick Ralph, Patricia Francis Coates, Althea Francis, Cynthia Francis, Gladeasha Francis, Kesana Francis, Darliene Harrigan, Girley Haywood, Michelle Warner Knight, Dr. Dineasha McQuilkin, Roseline Ralph Mailandt, Volda Francis Myers, Brenda Francis Osborne, Dine Potter, Daunarine Ralph, Francine Francis Ridges, Ingrid Francis Valez and Rosemarie Ralph Wedderburn; godchildren: Haleem Hart, Reanna Fagan, Cyele Scatliffe and Markia Simmonds; special friends: Alma E Brooks, Alecia "Sue" Brooks, Alda Brooks, Angela Brooks, Claudette Hodge, Joy Hodge, Celia Joseph Isles, Al Osborne, Luanne Roberts, Nicole Roberts, Chanda Todman and James Dyer; as well as other relatives and friends too numerous to mention.
A first viewing will take place from 5-7 p.m. on Friday, Jan. 25, at Davis Funeral Home.
A second viewing will take place at 9 a.m. followed by a funeral service at 10 a.m. on Saturday, Jan. 26, at First Pentecostal Church. Interment will be at Eastern Cemetery.
Arrangements are by Davis Funeral Home, 774-1464.