Deaths — St. Thomas
Anthony Olive Dies in Atlanta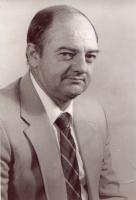 He is survived by his wife, Cecilia Danet Olive; daughter, Stephanie Olive Mason; son, Stephen Anthony Olive; daughter-in-law, Annette Luyando Olive; son-in-law, Timothy Lee Mason; grandchildren: Brandon, Patrick and Kelsey Mason, Stephanie-Ann and Joanne Olive; sister, Margarita Magras; brothers: John Marcel Olive and Dennis Olive; sisters-in-law: Sandra Olive, Maria Olive, Patricia Danet, Uranie Blanchard, Alicia Vante and Olivia Danet; brothers-in-law: Julien P. Magras, Edward Blanchard, Edward Danet, Louis Ralph Danet Sr. and James Vante; aunts: Cecilia Greaux and Olivia Trout; nieces: Michelle Roberts, Monique Johnson, Suzanne Blanchard, Lorraine Camacho, Jacqueline, Lisa and Charmaine Vante, Irene Maple, Charlene Bryan and Geraldine Quetel; nephews: Andy, Adam and Alex Olive, Michael and David Olive, Edward Roberts, Julien E. Magras, Louis R. Danet Jr., Edwin Danet, Christopher Danet, Jean-Louis Blanchard and Gerard Danet; special family friends: Ana Luyando and family, Launa Offerdahl Watts, Sylvia Olive, Judith Raimer, Gertrude Bryan, Lindsey Davies, Luz Moron, Marjorie Roberts, Monica Stevens and Florence Kalloo, Annette Zachman, Uranie Turbe, and Class of 1960 Sts. Peter & Paul High School; as well as many other relatives and friends.
There will be a viewing held from 8-9:30 a.m. on Friday, Nov. 23, at Davis Funeral Home Chapel followed by a funeral service at 10 a.m. at St. Anne's Chapel. Interment will be at Western Cemetery No. 1.
In lieu of flowers, donations can be made to St. Anne's Chapel, P.O. Box 306810, St. Thomas, VI 00802.
All funeral arrangements are by Davis Funeral Home, 774-1464.