Deaths — St. Thomas
Margaret McKean Kalik Dies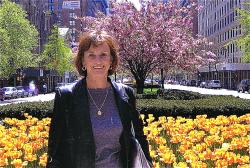 Margaret McKean Kalik passed away Sept. 24, 2012, in her St. Thomas home.
Born Feb. 27, 1931, in New York, she was raised in the New York area, where she established a successful career as a professional dancer. In the 1960s, she moved to St. Thomas and became a longtime and active member of the island community.
She was working as a bank teller in New York and raising a young family when she and her first husband, James Curran, began to draw crowds whenever they took to the dance floor. Building on that natural talent, they joined the Arthur Murray Dance Studio, where they taught ballroom dancing and for many years appeared on the nationally broadcast Arthur Murray television show. When the marriage ended, Margaret continued her career, becoming a featured Arthur Murray dancer. In that role, she introduced the Twist at the famed Peppermint Lounge, and appeared in ballroom exhibitions at the Tavern on the Green in Central Park. She also appeared on the iconic TV Show, What's My Line, stumping the panelists who tried to guess her profession.
Her life changed when she and a girlfriend took a vacation in Puerto Rico and decided to make a one-day side trip to St. Thomas. The pair went to Eddie's No. 1 Backstreet bar, where they met owner Edward Kalik.
Following an intense courtship, she moved to St. Thomas, and in 1970 she married Edward Kalik in the St. Thomas Synagogue.
The couple opened Investigations Unlimited, a security service headquartered on St. Thomas, and together built it into a successful enterprise with operations throughout the Virgin Islands.
They shared a zest for life expressed in a highly social lifestyle, much of it enjoyed upon Marge's Barge.
"Marge's Barge." For many years they regularly invited friends, family, friends of friends and family of friends, to join them for outings aboard the boat where Margaret proved herself the consummate hostess.
Together they learned to play bridge and became members of the St. Thomas Bridge Club. After poor health sidelined Edward, Margaret continued to play and participate in tournaments and was widely recognized as an accomplished bridge player.
She was also an avid and highly skilled golfer and was a member of the Women's Golf Association. She frequently participated in tournaments on St. Thomas and St. Croix and at Casa de Campo in the Dominican Republic.
She was well known for her love of words, quick mind, infectious sense of humor, and kindness.
She was a member of the St. Thomas Synagogue and of B'nai B'rith and volunteered at Catholic Charities in the Virgin Islands. She supported a wide range of charities with regular donations, including the Boys Club, Disabled Veterans, the American Cancer Society, the Alzheimer's Association, and St. Jude's Children's Hospital.
She is survived by son James Curran and daughter-in-law Gail; daughter Kathleen Lindsay and son-in-law Bruce; grandsons Sean Curran and wife Elana and Ryan Curran and wife Tracy; great grandsons Miles Curran and James Curran; granddaughter Patricia; great grandson Derek and great-great grandson Brodie; step granddaughter Terri Russel, her husband Gene and children Samantha, Lindsay and Malcolm; step granddaughter Kim Lindsay, her daughters Alisha and Kristy and granddaughter Mia; nieces, nephews, cousins and other relatives. She is also survived by companion Robert Austin and by many dear friends, especially in St. Thomas and New York.
She was preceded in death by her mother, Margaret Heike, R.N., brothers Donald and Gordon, sister Nancy, husband Edward Kalik, and former husband James Curran.
There will be a celebration of life at a date to be announced. In lieu of flowers, the family requests donations to the Juvenile Diabetes Foundation or Susan G. Komen for the Cure.